Sign me up for notifications!
Overview
Tech Specs
Support
All-New
Backlit Display Remote
Take full control with the redesigned VIZIO Backlit 5.1.2 and 5.1.4 Sound Bar Remote. With over 26 different mode and level settings, you can customize your listening experience to get the most out of your audio content. Watching an epic action movie after your podcast is done? Change the EQ mode from Dialogue to Movie with a click of a button. Stream your favorite music to your sound bar using the Bluetooth mode button and easily navigate through other modes and inputs using the LED display that's comfortably lit for both day and night. Adjust sound settings, like bass, height, dialogue, and surround sound levels to get the best, personalized audio experience.
Compatible with M512-H6 and select sound bar models.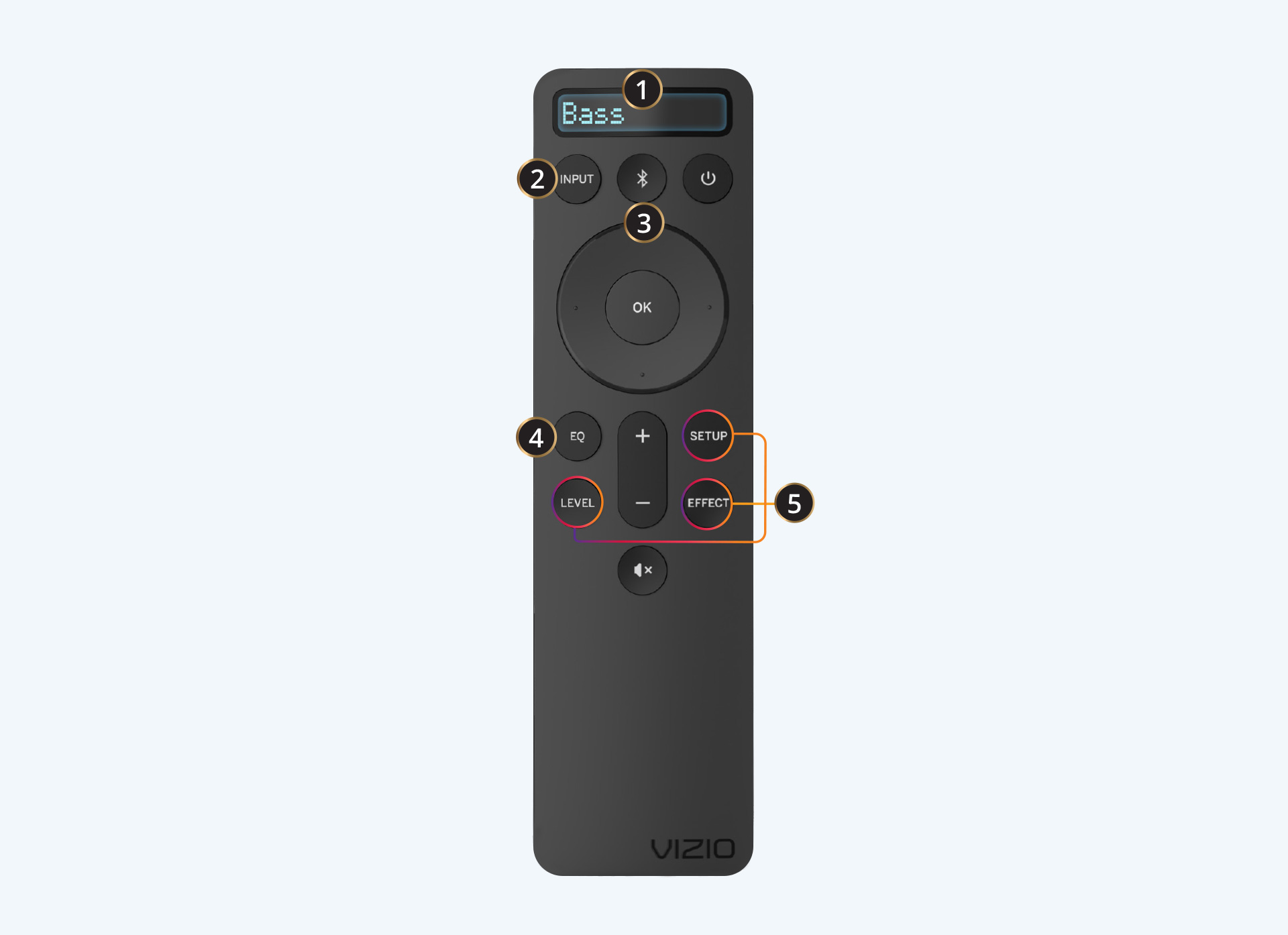 1. Backlit Display
Easily control your full-featured remote – even in the dark with the all-new backlit display.
2. Input Setting
Conveniently change between input sources such as HDMI eARC, HDMI In, Bluetooth, and more.
3. Bluetooth®
Dedicated Bluetooth button to stream your favorite music wirelessly from your phone.
4. Equalizer Setting
Optimize your content's sound with a preset equalizer setting: Movie, Music, Direct and Game.
5. Level/Setup/Effect Setting
Customize your bass, dialogue, surround levels and explore various options for the best audio experience.
Affordable, Proven Technology

VIZIO products integrate the best proven technologies to deliver exceptional performance at a great price.  Experts agree.

That Works With Everything

Your VIZIO should work with you and your home.  That's why VIZIO supports the most popular video and audio formats, as well as Alexa, Google Assistant and Siri.

And Gets Better Over Time

All VIZIO SmartCast OS TVs are automatically updated.  This means that your TV will receive new features for years to come.