Sign me up for notifications!
Overview
Tech Specs
Support
Take your audio to new heights.  
Experience a powerful new dimension of surround sound from above when the Elevate's innovative new speakers auto-rotate upward to project cinematic Dolby Atmos® and DTS:X sound off your ceiling.  

Feel the sound all around. 

Looking to create the ultimate home theater experience? Feel the astoundingly immersive, multi-directional surround sound you can feel moving all around you with breathtaking power from Dolby Atmos® and DTS:X.                                                                                             


Elevate's Adaptive Height Speakers  also rotate forward to hit you with the full force of all 18 high-performance sound blasters. This wider soundstage is incredible for music, with clearer vocals and concert hall levels of power and performance. 
Revel in VIZIO's most thunderous bass that can shake your space with seismic force down to 30hz.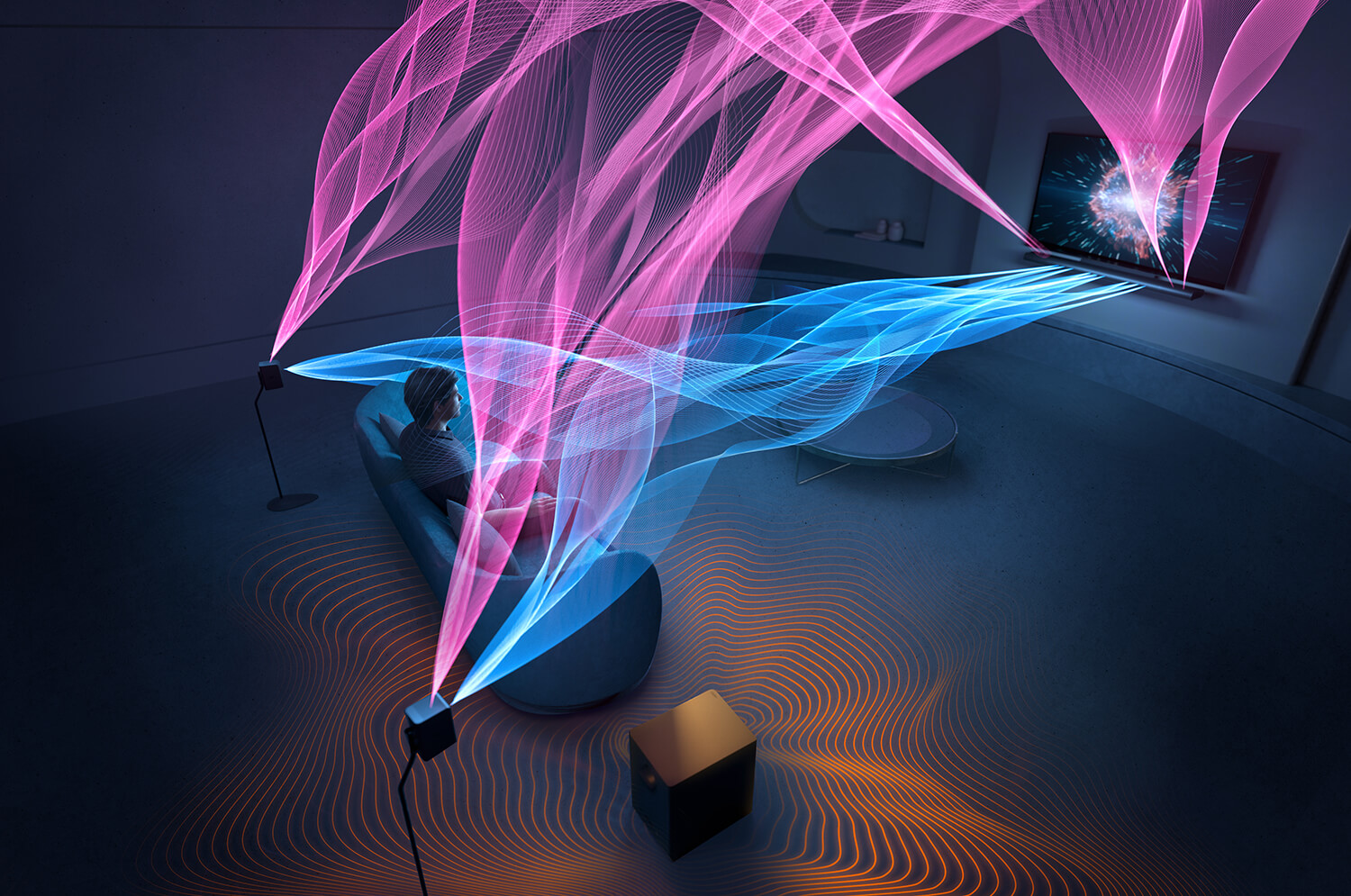 The Elevate's rear surround speakers fire audio upward to help generate a powerfully immersive 360° "dome of sound" from overhead. Which is awesome for gaming, movies & music. 
Beautiful in every way.
Innovative rotating speakers. A gravity-defying docking base for VIZIO OLED. And a sleek anodized aluminum enclosure that enhances  your room with powerful beauty. This is an award-winning sound system designed to stun your senses in every way.
What the Tech Experts Say
2020 Product Design Award
Cutting-Edge Beauty That Fits Right In.
Revolutionary auto-rotating speakers blast sound off your ceiling for a completely immersive overhead surround sound experience. 

5.1.4 System with 18 Speakers

Enjoy true 5.1.4 sound with 4 upfiring speakers built-in to the sound bar and rear surround speakers to deliver an immersive Dolby Atmos and DTS:X experience.

Elevate docks seamlessly with the base of VIZIO OLED for the perfect match of audio and image excellence.
Aluminum speaker cylinders are supported by the rear audio chamber to deliver powerful audio performance.

Along with machined aluminum elements, the rear audio chamber is covered with a fine micro-pattern that provides texture and resists fingerprints.

The 8" wireless subwoofer is engineered for the deepest bass down to 30Hz and can fit unobtrusively into any space.
What makes a VIZIO a VIZIO?
Affordable, Proven Technology

VIZIO mixes the best of proven technologies to make the best performance at the price. Experts agree.

That Works With Everything

Your VIZIO should work with you and your home. That's why VIZIO supports all popular video and audio formats, as well as Alexa, Assistant and Siri.

And Gets Better Over Time

VIZIO TV's are automatically updated. This means that your TV will receive new features and functionality as you're enjoying it for years to come.