Next-gen tech.
For a new generation of heroes.
OFFICIAL GAMING TV & SOUND BAR Game as developers intended.
Dolby VISIOn Gaming
Epic levels of detail.
AMD FREESYNC Premium pro
Zero stutter, ultra smooth gameplay.
Ultra low input lag
Respond faster, gain the advantage.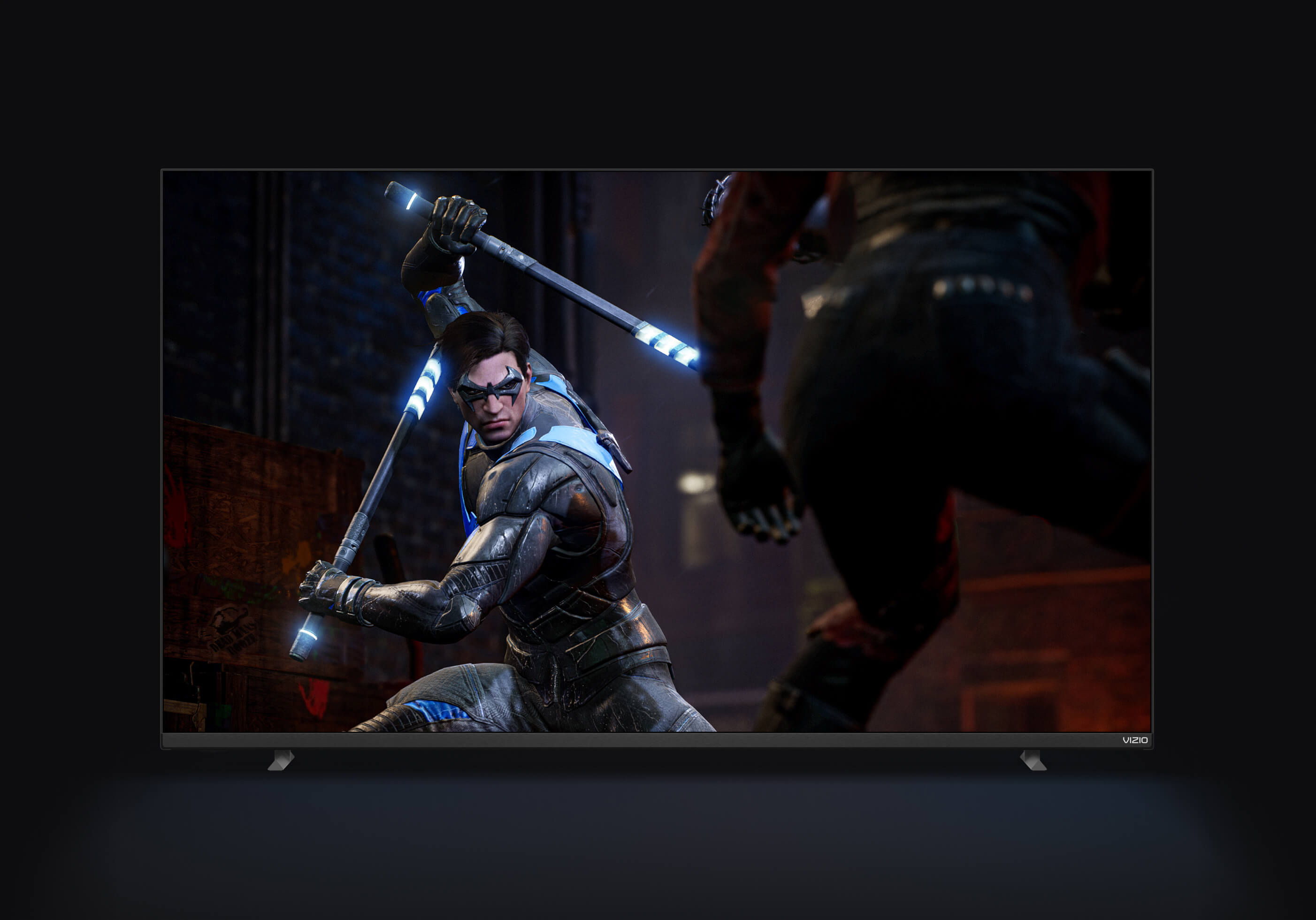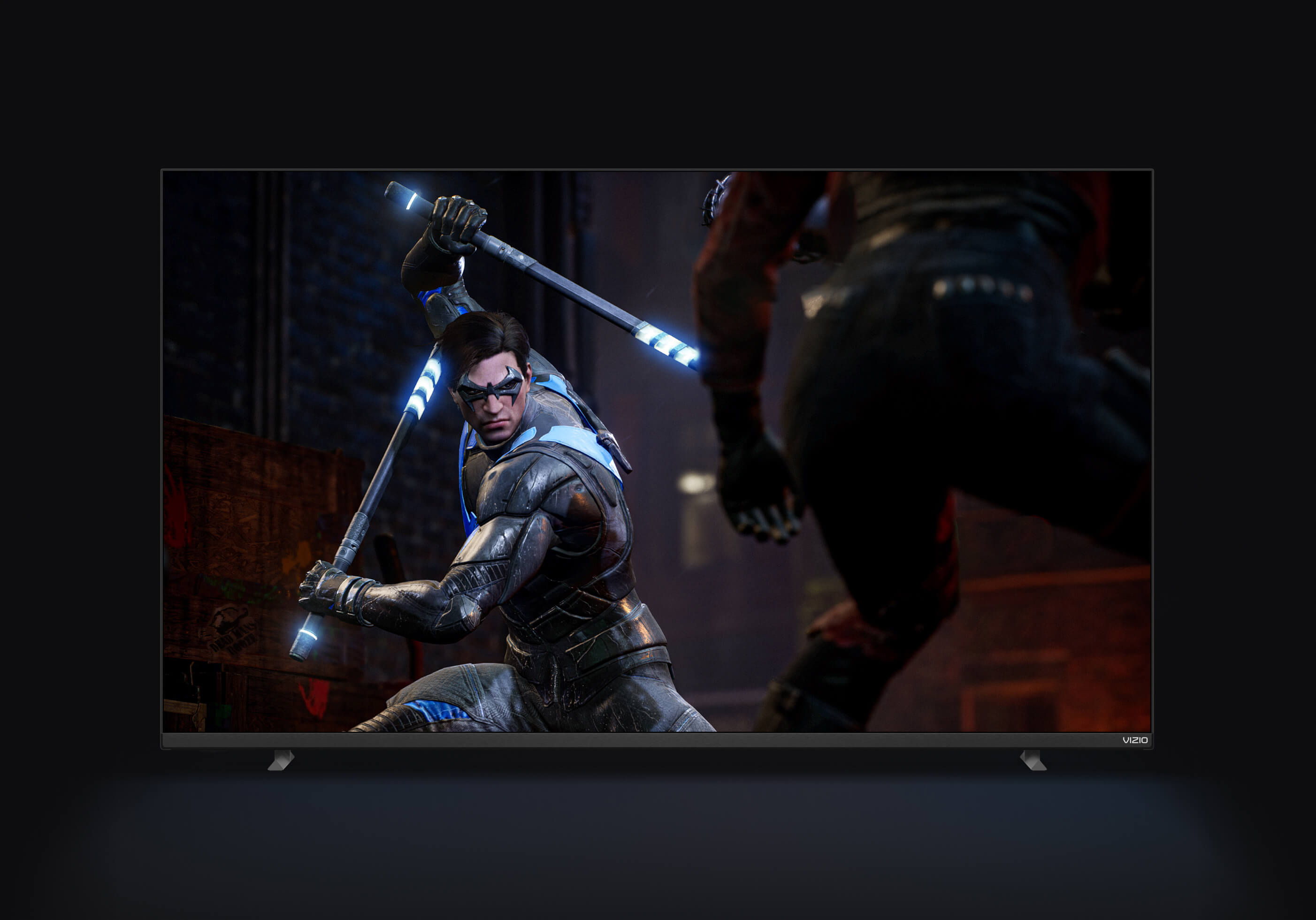 AUTO GAME MODE
Automatically optimizes your
TV settings for gameplay.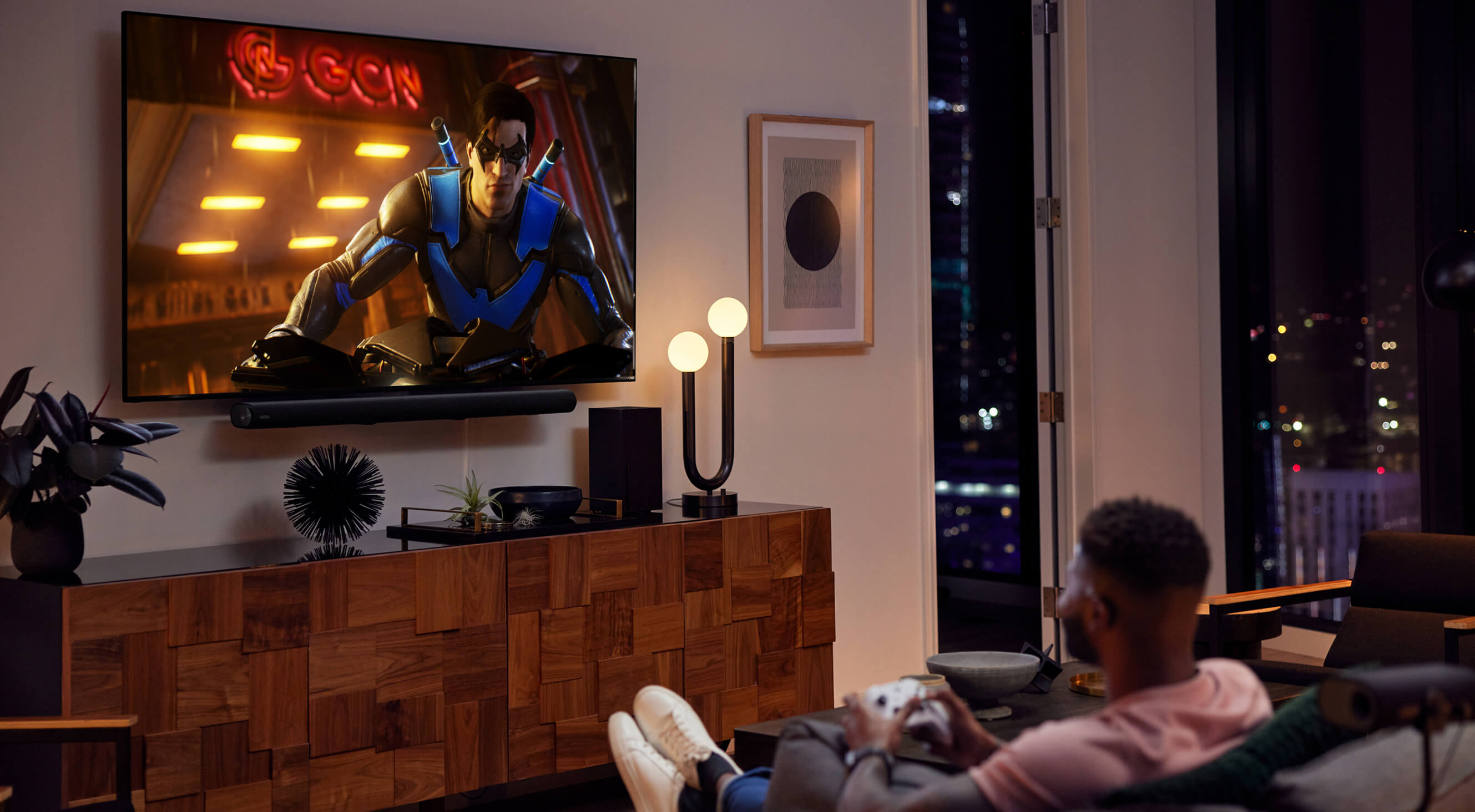 QUANTUM COLOR
True in-game immersion
with over a billion shades of color.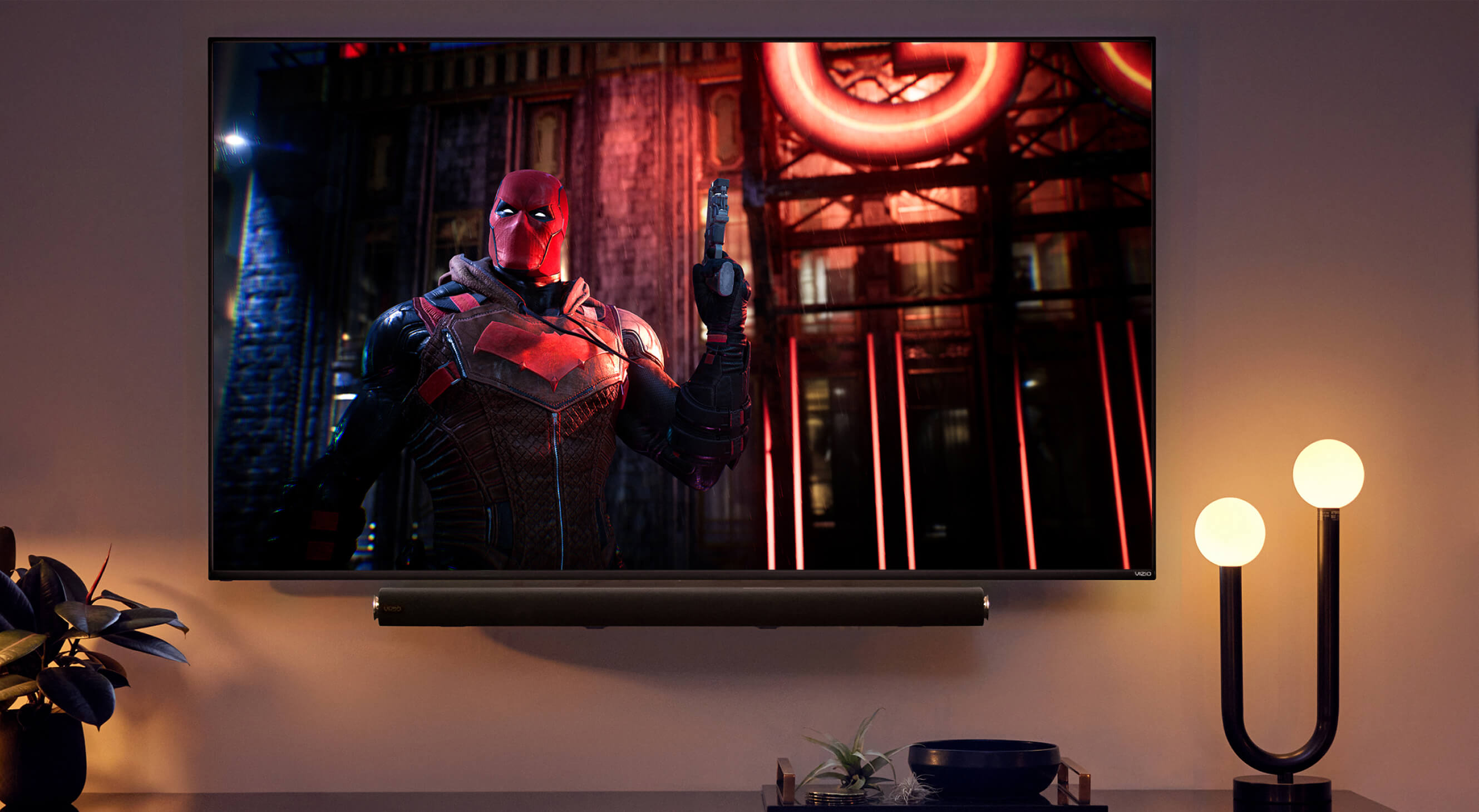 Check out the lineup.
Screen Sizes
Screen Sizes
24" - 43"
43" - 75"
43" - 75"
65" - 85"
High-Performance Processor
Processor
IQ
IQ Active
IQ Ultra+*
IQ Ultra
Auto Game Mode
Auto Game Mode
AMD FreeSync
AMD FreeSync
AMD FreeSync
AMD FreeSync
AMD FreeSync
Premium Pro*
AMD FreeSync
Premium Pro
Variable Refresh Rate (VRR)
VRR
Input Lag
Input Lag
<10ms
<10ms
<7ms*
<8ms
4K
4K
—
60fps
120fps*
120fps
1080p
1080p
—
60fps
240fps**
120fps
HDMI 2.1 Connectivity
HDMI 2.1
—
Dolby Vision HDR
Dolby Vision HDR
—
Dolby Atmos Passthrough
Dolby Atmos

*Certain features apply to M-Series Quantum X only.
**Feature applies to M-Series Quantum X 50".

*Certain features apply to M-Series Quantum X only.
**Feature applies to M-Series Quantum X 50".
FAQ
Learn more about gaming on VIZIO 4K Smart TVs.
Input lag is the most significant advantage a 4K gaming TV can give to serious gamers.

Simply put, input lag refers to the time it takes (in milliseconds) for the TV to process a signal from the gaming console before displaying it on the screen. An excessively high input lag will create a noticeable delay from the time you press a button on the controller until the action reflects in-game.

Compared to computer monitors, TVs are notorious for having high input lags. That's because modern televisions perform post-processing on the signal to make the image look better and crisper on-screen.

For movies or TV shows, post-processing works perfectly fine. But for a game, this extra processing time can affect your gaming performance and ruin the overall experience.

For a TV to be suitable for gaming, it must have an input lag of around 30 ms or less. Competitive gamers would want an even lower input lag of 10 ms or less for the best performance. That slight difference might seem trivial, but a few milliseconds is enough delay to throw a professional gamer's reaction off by a considerable margin. Fast-paced games, such as first-person shooters or fighting games, benefit the most from low input lags.
Input lag, refresh rate, and response time are the three critical features that set the best TV for gaming apart from regular sets. Together, they can deliver responsive performance that gives the ultimate edge for competitive games.

The last element, response time, measures how long it takes for each pixel in your TV to switch from white to black or any shade in between.

If the response time is not fast enough, you'll notice ghosting or smearing on fast-moving objects. This can muddy up the visuals in competitive gaming and distract you from experiencing the in-game environment accurately.
Variable Refresh Rate (VRR), is an advanced feature initially only available on PC gaming monitors. This is partly because no device connected to a TV used one, outside of computer graphics cards.

That all changed with the release of the next-generation PS5 and Xbox Series X consoles, both of which support adaptive sync technologies. But what, exactly, is adaptive sync?

Traditionally, TVs and consoles or video cards don't have the exact frame and refresh rates. For instance, TVs use either 60 Hz, 120 Hz, or 144 Hz, while consoles can operate outside these set rates. When you connect the two, it creates a mismatch.

When a console sends frames at rates that don't match your TV, the previous and last frames can be displayed simultaneously. The resulting visual glitch is tearing. It literally looks like your TV is tearing itself apart.

Variable Refresh Rate solves this dilemma by dynamically matching the refresh rate of your TV and console. A 4K TV with FreeSync or G-Sync adaptive sync technology (from AMD and Nvidia, respectively) gives smooth, artifact-free frames without sacrificing your console's preferred frame rate. All VIZIO 4K TVs use AMD FreeSync to deliver tear-free gaming experiences for the next-gen consoles.
The next generation of VIZIO TVs – the P-Series and M-Series Quantum Q– all use IQ Ultra - our proprietary, next-generation image processor. With it, our TVs can deliver smart and stunning images with a powerful 4K upscaling engine.

The result is less noise and artifacts on the screen. Edges in the image are sharper, details are more defined, and colors are much more vibrant. IQ Ultra also uses contrast enhancement that gives better depth to the images on-screen.

Overall, IQ Ultra dramatically improves the already-amazing graphics on your gaming consoles without introducing unnecessary input lag.
120hz+ refresh rate is critical in reducing motion blur for fast-moving game scenes, allowing for fluid gameplay. It provides smoother motion and a super-sharp, detailed on-screen image. The gamer's performance is increased thanks to significantly lowered input latency compared to lower refresh rates.