Sign me up for notifications!
Overview
Tech Specs
Support
Control it all with your voice.
VIZIO Voice makes it easy to search, stream & switch inputs with just your voice.
Content on command.
With VIZIO Voice, you can quickly find the content you love. Say simple, intricate, or follow-up commands and let SmartCast do the work for you.

Use voice to launch your
favorite apps.
"Launch Netflix."
"Show me cat videos on YouTube."
"Play Marvelous Mrs. Maisel on Prime Video."
Everyday commands made simple.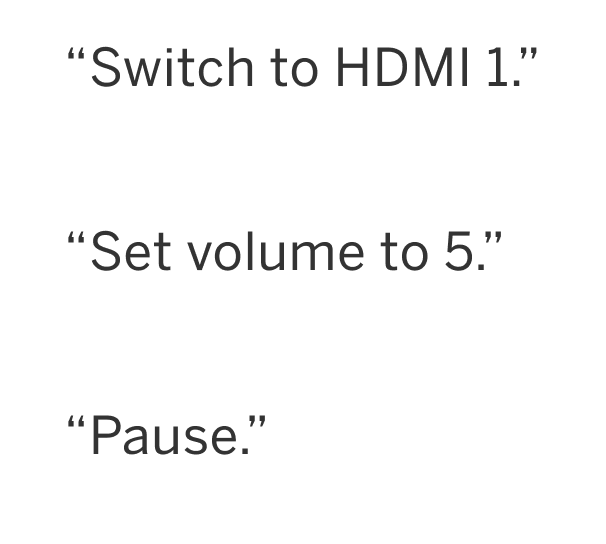 Discover your next favorite movie.
"Show me family movies."
"Only the animated ones."
Get to know your VIZIO Voice Remote.

Get to know your VIZIO Voice Remote.

Push-to-talk voice button.
Quickly search for content in SmartCast, launch apps, and more.

Easier with Bluetooth.
Control your TV from anywhere in the room without having to point.

Fewer buttons, more control.
Enjoy a simplified design enabling quicker access to TV controls.

Compatible models.
V435-J01, V505-JO1, V505-J09, V555-J01, V585-JO1, V655-J04. V655-J09, V705-J01 V705-J03, V706-JO3, V755-J04, V756-J03, M43Q6-J04, M50Q6-J01, M50Q7-J01, M55Q6-J01, M55Q7-J01, M58Q7-J01, M65Q6-J09, M65Q7-J01, M70Q6-J03, M70Q7-J03, M75Q6-J03, M75Q7-J03, P65Q9-J01, P75Q9-J01, P85QX-J01.
Never lose control.
Use your voice with our full-featured virtual remote in the
SmartCast mobile app.