How to turn on or off Video ACR / Viewing Data Collection
(also known as "Smart Interactivity")
Video ACR collects data related to publicly available content displayed on your television/display, such as the identity of your broadcast, cable, or satellite television provider, and the television programs and commercials viewed (including time, date, channel, and whether you view them live or at a later time). We also collect unique identifiers about this TV, including the IP address. This data is collectively referred to as "Viewing Data." For more information about Viewing Data and how VIZIO protects its customers' privacy, please consult our privacy policy at www.vizio.com/privacy.
When ACR collection is turned on, we may share Viewing Data with authorized data partners including analytics companies, media companies and advertisers. VIZIO and its authorized data partners use Viewing Data to generate summary analysis and reports of how users engage with content on their TVs and other devices. VIZIO Viewing Data is sometimes enhanced with household demographic data and data about digital actions (e.g. digital purchases and other consumer behavior taken by devices associated with the IP Address we collect). Viewing Data also enables our authorized data partners to deliver advertising relevant to your profile that you might find useful, both on the VIZIO TV/display and other devices sharing your IP Address. Viewing Data is also used to help content publishers, broadcasters or content distribution services create or recommend more relevant entertainment based on summary insights, as well as helps us improve the design of our products, software and services.
You can easily turn this feature on or off by following the steps below for your television on the VIA Plus platform. If you are unable to locate the control in your Settings menu, please contact VIZIO customer service by emailing techsupport@vizio.com or calling (855) 472-8817.
Turning Off Video ACR / Viewing Data Collection
VIA Plus TV Interface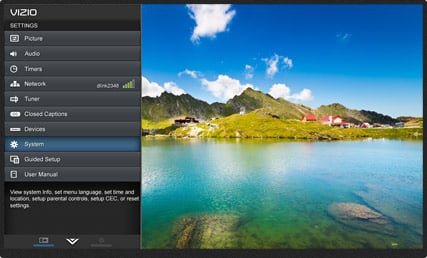 1. Press the MENU button on your TV's remote or open HDTV Settings app.
4. Highlight Viewing Data.
5. Press RIGHT arrow to change setting to Off.
How to turn on Video ACR/Viewing Data collection
1. Follow Steps 1 through 4 above.
2. Press RIGHT arrow to change setting to On.
VIA TV Interface
As of 2/06/2017 Viewing Data collection has been disabled on VIA units.
SmartCast Displays
Viewing Data collection is not currently enabled on SmartCast Display units.
You can compare a maximum of three products at a time.
Sign up to receive exclusive
deals, news & more.
Live Chat