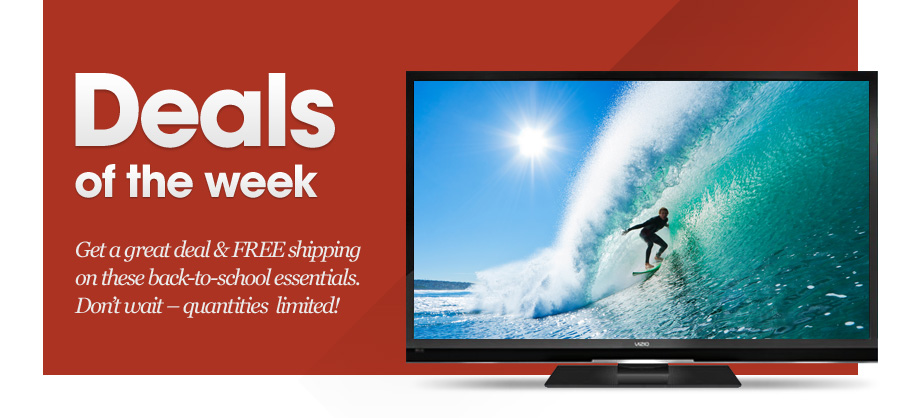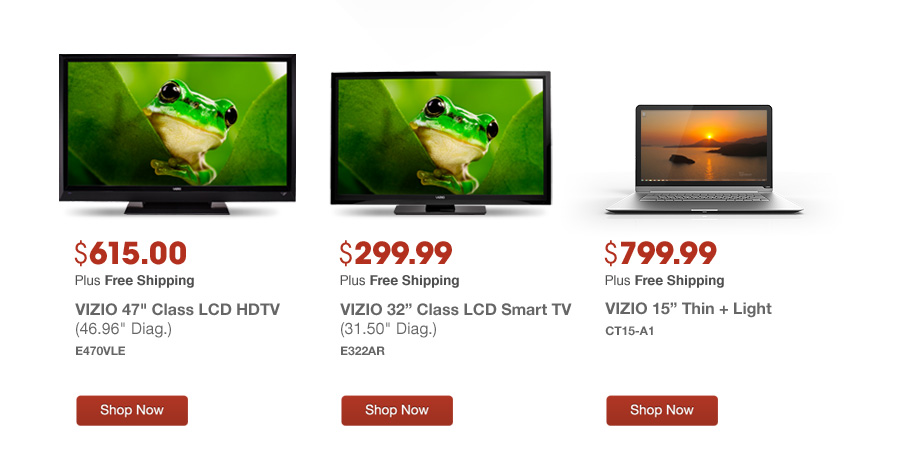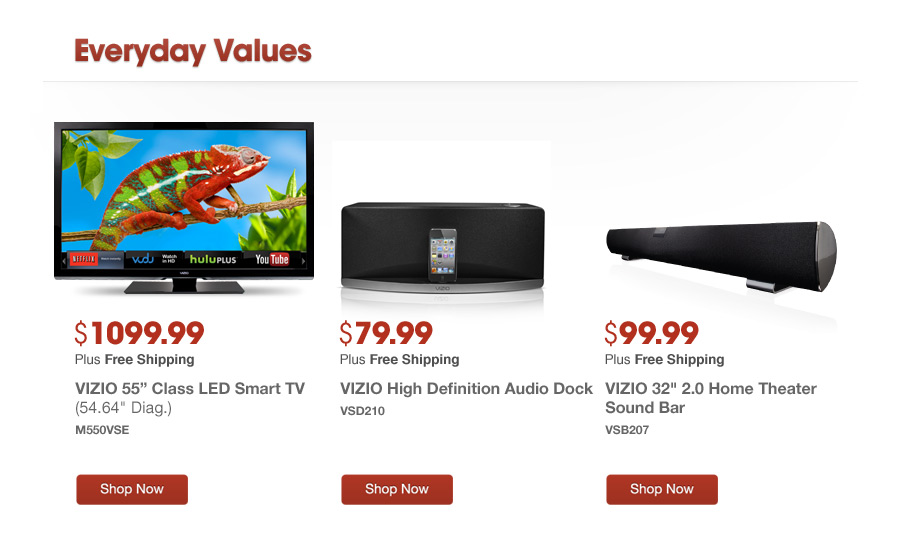 Quantities limited and while supplies last.

© 2012. All rights reserved. The V, VIZIO, Entertainment Freedom and Entertainment Freedom for All names, logos and phrase are registered or unregistered trademarks of VIZIO, Inc. Other logos and trademarks are the property of their respective owners. Subject to change without notice.
---
*SPS (Scenes Per Second) combines advanced 120Hz technology with scanning backlight for enhanced detail.
**High-speed/Broadband Internet service and access equipment are required and not provided by VIZIO. Additional fees and/or subscriptions required for certain content and services. VIZIO Internet Apps® (V.I.A.) applications pictured, described on this package or in its accompanying documentation may not be available, or may provide different functionality, content or services, at the time of purchase. Applications are subject to future updates and/or modifications without notice.
IMPORTANT SAFETY INFORMATION FOR WATCHING 3D CONTENT
You may experience discomfort while watching 3D content. You may feel symptoms of eye strain, vision fatigue, color or depth distortion, motion sickness, nausea, dizziness, disorientation, or other discomforts. If you experience any of these symptoms, stop watching television and take a break for at least thirty minutes before resuming. If the symptoms are severe or continue even after you have stopped watching television, consult a doctor.
Even if you do not experience any of these symptoms, take regular breaks from watching 3D content.
Take care to monitor children's watching of 3D content. Children (including teenagers) may be more at risk of experiencing discomfort while watching 3D content and less likely to report symptoms. Monitor children's television viewing and watch for signs of discomfort.
Some viewers may be susceptible to epileptic seizures or strokes when viewing 3D images, even if those conditions have not been previously diagnosed. If you or anyone in your family has a history of seizures or strokes, or if you have any other reason to think you or someone under your supervision may be susceptible to epileptic seizures or strokes, consult a doctor before watching 3D content.