The All-New VIZIO M-Series
Ultra Beautiful.
Presented by VIZIO, the maker of the top-selling UHD TV.*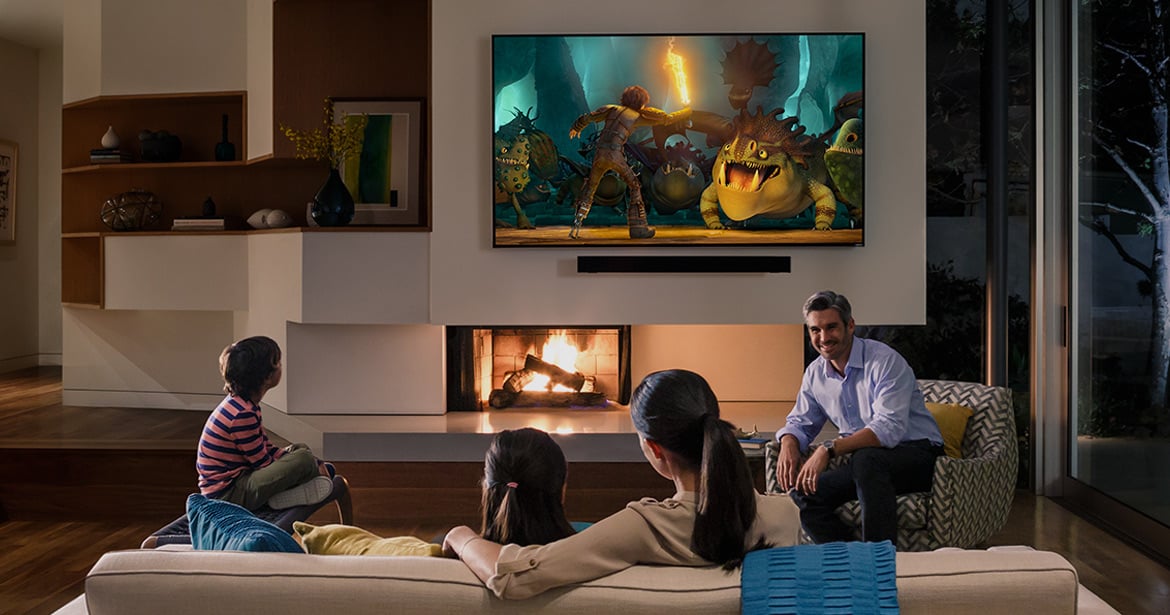 Reviewed.com, 7/29/15 | Read Review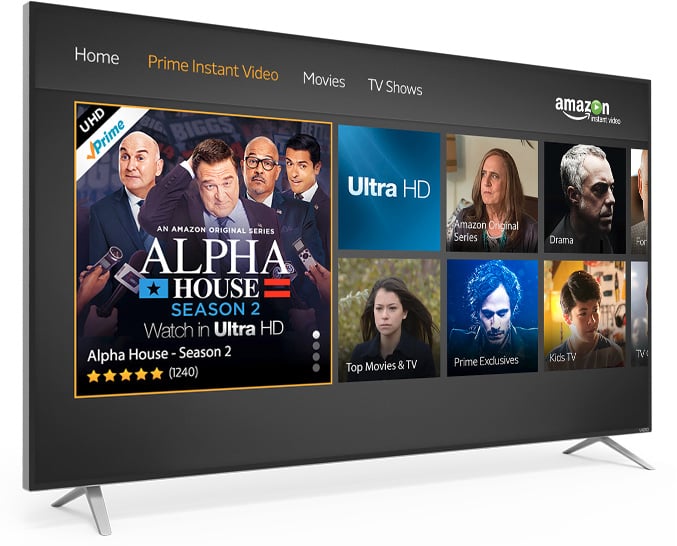 Screen image simulated.
The Most
Awe-Inspiring
VIZIO M‑Series.
4K Ultra HD for all has arrived. VIZIO M-Series delivers incredible UHD picture quality, powerful performance and beautiful design, all driven by an ultra-intuitive Smart TV experience that makes UHD streaming simple.
Stunning Ultra HD.
VIZIO M-Series commands premium 4K Ultra HD innovations with an ultra-sharp 2160p resolution to deliver masterful picture quality in UHD clarity down to the last detail.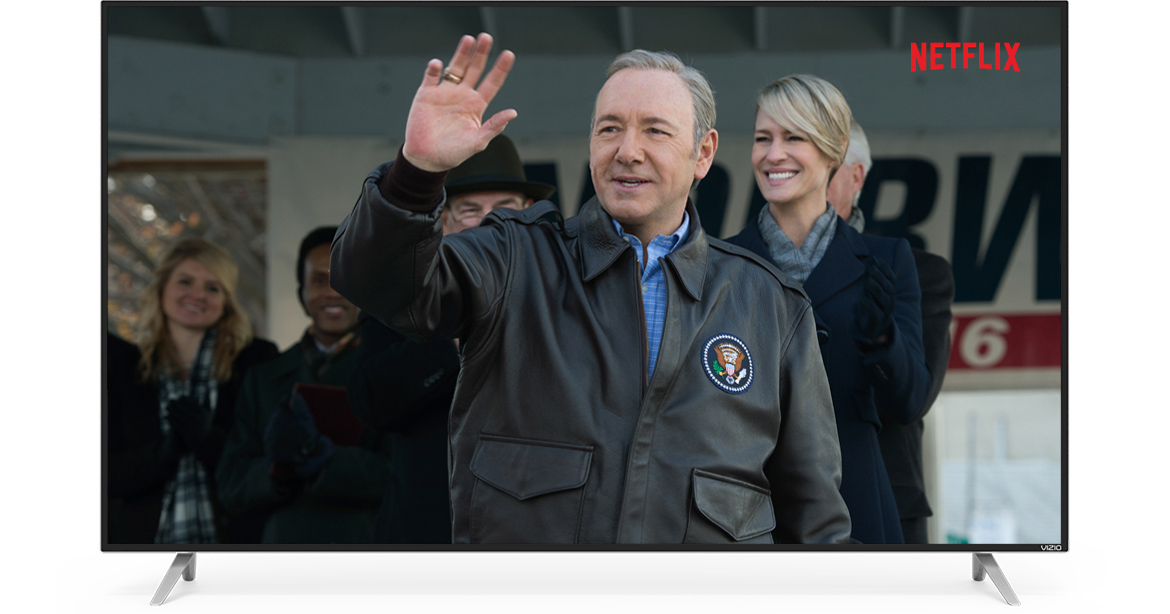 4x
Enjoy four times the resolution of Full HD for breathtaking clarity.
2160p
Discover stunning detail and definition at twice the pixel height of 1080p.
8m
Experience 8.3 Million screen pixels in every image.
Everything in Ultra HD.
Every TV show, sporting event or movie is scaled up to Ultra HD resolution using an intelligent algorithm and a powerful VM50 Ultra HD picture processing engine. It doesn't matter what cable or satellite provider you have, both standard and high definition can be upscaled into Ultra HD quality1.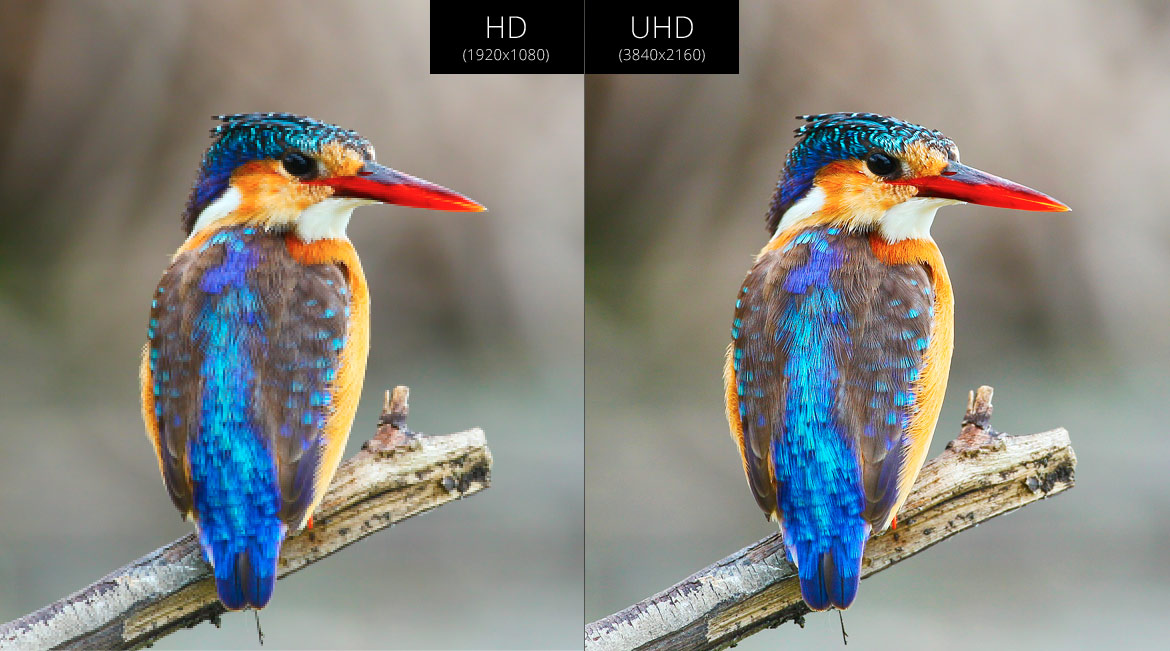 For illustrative purposes.

Ultra Upscaling.
VIZIO's Spatial Scaling Engine converts everything you watch into Ultra HD by automatically upscaling HD and Full HD content to 4K UHD resolution.

VM50 Ultra HD Engine.
A dedicated VM50 Ultra HD motion and picture processing engine continuously sharpens the content on screen for precision clarity and detail.
Ultra Performance.
Contrast meets clarity. VIZIO M-Series features 32 Active LED Zones™ that intelligently adapt to the content on screen for a heightened contrast ratio of 20 Million-to-1.

Simulated images used, shown for illustrative purposes only. Actual results and number of LED lights, zones, and size vary by model.
Penguins of Madagascar © 2015 DreamWorks Animation LLC. All Rights Reserved.

Clear Action 360.
The enhanced Clear Action 360 shows fast-moving content with high clarity while reducing motion blur during action scenes, rapid video games and high-speed sports.

120Hz Effective Refresh Rate.
This VIZIO M-Series TV features a high speed 120Hz effective refresh rate, helping to ensure a consistently sharp picture that is smooth and authentic.
Premium Smart TV.
With an expansive variety of content, 4K streaming support, faster loading and quicker toggling, you'll enjoy an intuitive and delightfully simple experience that makes streaming quick and simple.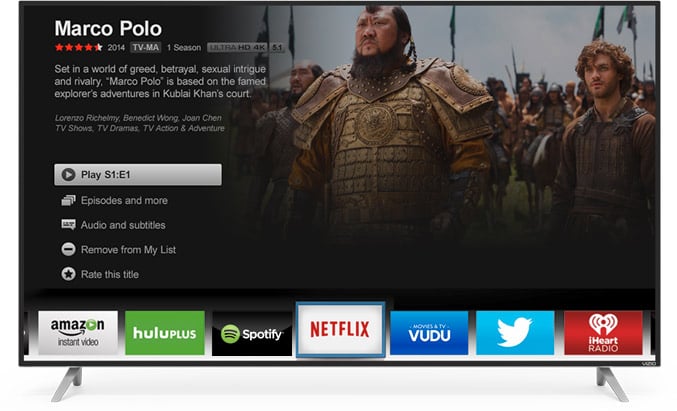 Watch Marco Polo now on Netflix®. Screen image simulated.
VIZIO Internet Apps PLUS.
VIA Plus and Dual-Band Wi-Fi are built into every VIZIO M-Series UHD Smart TV. Enjoy a variety of popular apps with Ultra HD streaming content and Internet radio at your fingertips†. The simplified app home and app launcher make finding your favorite entertainment effortless.
The Latest Apps. All in One Place.
Featured
UHD
New
TV, Movies & Videos
Music
News & Sports
Social
More
Netflix

Watch your favorite movies, TV, documentaries, comedies and Netflix original series anytime.

Amazon Instant Video™

New movie releases, must-watch TV shows and classic favorites all available right now.

iHeart Radio®

Listen to live radio stations, create your own stations or tune in to others for free.

Vudu®

Stream or download the latest movies & TV shows, and watch same-day DVD releases.

Hulu Plus™

Watch current hit shows, classic series and acclaimed movies instantly with Hulu Plus.

Spotify®

Music for every moment. Connect with Spotify for access to millions of songs.

Pandora®

Free, personalized radio anytime, anywhere. Discover new music and enjoy old favorites.

Ultraflix®

The world's largest streaming library of pristine 4K Ultra HD content.

Facebook®

Facebook keeps you connected to friends, family and more.

Crackle

Watch hundreds of movies and TV shows online – uncut, unedited and unbelievably free.

Plex

All of your personal media organized so you can enjoy it no matter where you are.

Toon Goggles

Online video portal for children with thousands of 100% parent-friendly and kid-safe cartoons.

Aircast

Stream movies with Chromecast on TV and stream from PC, Mac or even Android phones.

Lyve

Lyve brings together the moments and memories scattered across all of your devices.

YuppTV

Watch the most popular Live Indian TV content and events as they happen only on YuppTV.

YouTube®

Discover new channels, watch, upload and share your favorite videos.

Baebel

Watch live indie music concerts and music videos live at the hottest clubs around the country.

TUNEIN

Listen to online radio, find streaming music radio and streaming talk radio with TuneIn

Yahoo News

The latest headlines, breaking news stories and in-depth coverage with videos and photos.

Yahoo Sports

All the latest breaking sports news, scores, rumors, fantasy games, and more.

Yahoo Sports Fantasy Football

Create or join leagues, manage teams and get free scores, stats, news and expert advice.

Yahoo Weather

Forecasts, breaking reports, storm advisories, resources, categories and local weather.

Yahoo Finance

Free stock quotes, news, portfolio management resources, international market data and more.

Yahoo Screen

Watch free online videos featuring sports, kids content, funny videos and the latest news clips.

Wall-Street Journal

Breaking news and current headlines from the US and around the world.

Accuweather

Get local and international weather forecasts, current conditions and breaking reports.

Twitter

Connect with your friends and get in-the-moment updates on the things that interest you.

YouTube®

Discover new channels, watch, upload and share your favorite videos.

Flickr

Accessing, organizing, storing and sharing all your pictures and photo albums made easy.

BigStar

Instantly stream thousands of independent, foreign and award-winning feature films.

Bravo

Connect to Bravo for the latest news and info on your favorite shows and Bravolebrities!

Fandango

Find theater showtimes, watch trailers, read reviews and buy movie tickets in advance.

iFood.tv

A trustworthy collection of tried, tested and reviewed video recipes and cooking shows.

V6 Six-Core Processor.
A revolutionary V6 Six-Core Processor featuring a quad-core GPU and dual-core CPU that speeds everything up - from finding content and apps to powering up the TV.

Blazing Fast Dual-Band Wi-Fi.
With support for the latest Wi-Fi standard 802.11ac (that's up to 3x faster than 802.11n2), M-Series lets you stream Ultra HD from popular apps such as Netflix®.

Second Screen Experience.
Browse content on your phone or tablet and play it directly to your VIZIO Smart TV. Enjoy true multi-screen viewing with Second Screen-ready mobile apps like Netflix® and YouTube®.
Smart Remote.
Now Brighter.
Enjoy total intuitive control with a smarter remote created for the smarter TV. It's double-sided with one-touch access to your favorite apps on the front and a full QWERTY backlit keyboard on the rear.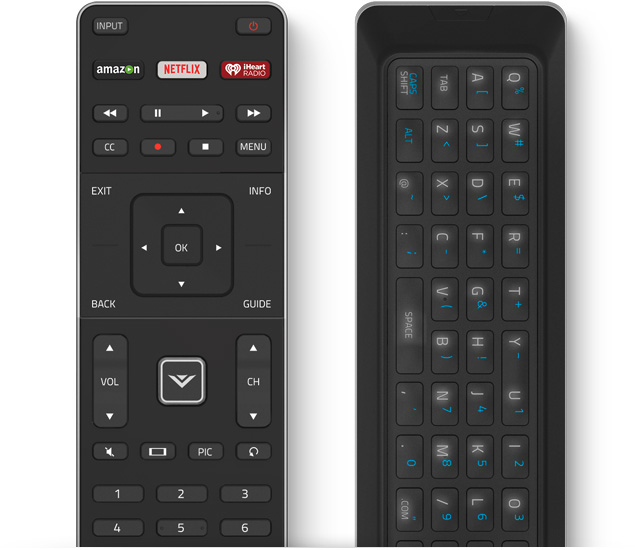 Better Sound. Smarter Choices.
Selecting the best VIZIO Sound Bar configuration for your TV is easy. With a few simplified yet distinctive options to choose from, the differences are clear.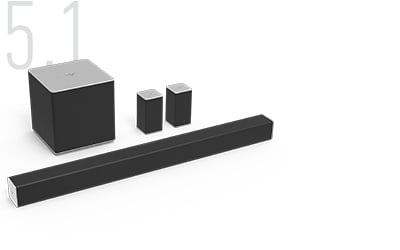 5.1 Sound Bar System
The pinnacle of surround sound immersion and convenience, this system turns any room into a true home theater.
Shop Now →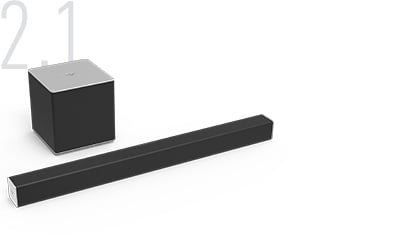 2.1 Sound Bar System
Crystal-clear sound with the extra bass kick of a subwoofer to fill any room with more immersive audio.
Shop Now →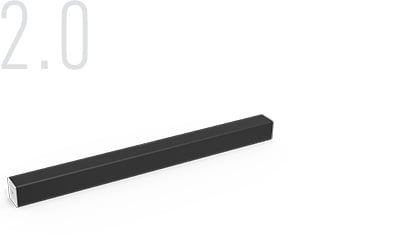 2.0 Sound Bar
Optimized sound for small to medium sized TVs and spaces where a simple audio upgrade is all that's needed.
Shop Now →

1 Source content may not be available in native 4K. Source content is upscaled to UHD resolution. Actual picture quality may vary.
2 Source: IEEE standard 802.11 specifications. Maximum throughput rate of 802.11ac (1300 Mbps) is approximately three times faster than that of 802.11n (450Mbps). Actual rate will vary, and will be subject to router model, site environment, range, Internet bandwidth and other factors.
*Ultra HD availability subject to your Netflix subscription plan, Internet service, device capabilities, and content availability. See Terms.
† The applications and content of the VIZIO Internet Apps® and VIZIO Internet Apps Plus® pictured herein or described on this page may only be available in certain countries and languages, may require additional fees or subscription charges, and may be subject to future updates, modifications, interruption and/or discontinuation of service without notice. VIZIO has no control over third party application or content and assumes no responsibility for the availability or interruption of such application or content. Additional third-party terms, conditions and restrictions apply. High-speed/Broadband Internet service and access equipment are required and are not provided by VIZIO.
VIZIO, Inc. has made every effort to ensure the accuracy of the information provided herein. All product specifications, functionality, features, configurations, performance, design and other product information described herein are subject to change without notice. VIZIO, Inc. disclaims liability for typographical, technical, or descriptive errors.
©2017 VIZIO, Inc. VIZIO, the V Logo, VIZIO SmartCast, Home Theater Display, Active LED Zones and other terms and phrases are trademarks or registered trademarks of VIZIO, Inc. All other trademarks and logos are property of their respective owners. All rights reserved.
Amazon, Alexa, Amazon Echo and all related logos and motion marks are trademarks of Amazon.com, Inc. or its affiliates.
§ Source: The NPD Group/Weekly Tracking Service, January 5, 2014 – March 14, 2015, Flat Panel TV Display Resolution 3840x2160, Units Sold. How to Train Your Dragon 2 © 2015 DreamWorks Animation LLC. All Rights Reserved. Screen image simulated.
Video
Class Size49" Class
Screen Size (Diag.)48.50"
Panel TypeIPS
Display ProcessorV6 Six-core processor: Quad-core GPU + Dual-core CPU
UHD Upscale EngineSpatial Scaling Engine
Backlight TypeFull-Array LED
Local Dimming ZonesYes, Active LED Zones™ x32
ResolutionUltra HD - 3840x2160
Effective Refresh Rate120Hz
Clear Action™360
Active Pixel Tuning™Yes
Aspect Ratio16:9
Dynamic Contrast Ratio20 million to 1
Viewable Angle (H/V)178°/178°
Number of Colors1.07 Billion
OSD LanguageEnglish, Spanish, French
Audio
Speakers/Power Output10W x 2
DTS StudioSound™Yes
DTS TruSurroundYes
DTS TruVolume™Yes
Smart TV
VIA (VIZIO Internet Apps)Yes, VIZIO Internet Apps Plus®
Built-in Wi-FiYes, 802.11ac Dual Band
Inputs
HDMI Ports5 (3 down; 2 side)
· HDMI Port 1 SpecUHD Video @30Hz, HDCP 2.2 support
· HDMI Port 2 SpecUHD Video @30Hz, HDCP 2.2 support
· HDMI Port 3 SpecUHD Video @30Hz, HDCP 2.0 support
· HDMI Port 4 SpecUHD Video @30Hz, HDCP 2.0 support
· HDMI Port 5 SpecUHD Video @60Hz, HDCP 2.2 support
Component1 (side)
Composite1 (side)
Ethernet1 (down)
USB Ports1 (side)
TV Tuner1 (down)
Outputs
Analog Audio Out1 (down)
Digital Audio Out (SPDIF)1 (down)
Additional Features
Remote ControlXRT500
USB MusicYes
USB PhotoYes
USB VideoYes
BluetoothNo
Energy Savings
Energy Guide
Energy ComplianceENERGY STAR® 7.0
Power Consumption69.5W
Standby Power Consumption<0.5W
Ambient Light SensorYes
Wall Mount Specifications
Mount Pattern200mm x 200mm
Screw SizeM6
Screw Length16mm
Size and Weight
Product with Stand Dimensions43.12"W x 27.11"H x 9.94"D
Product with Stand Weight30.86 lbs.
Product without Stand Dimensions43.12"W x 24.74"H x 2.46"D
Product without Stand Weight30.07 lbs.
Product Packaging Dimensions46.46"W x 28.66"H x 5.91"D
Product Packaging Weight39.02 lbs.
Product Base / Stand Dimension38.06" wide
VIZIO Warranty
WarrantyOne Year Parts & Labor. Free Lifetime Technical Support.