The All-New VIZIO SmartCast™ E-Series™
More Depth. More Details.
Introducing the all-new VIZIO SmartCast™ E-Series™ Ultra HD HDR Home Theater Display, with Chromecast built-in. Featuring High Dynamic Range with HDR10 content support, 4K Ultra HD resolution, and superior picture performance of full array XLED backlighting with 10 Local Dimming Zones for more depth, contrast, and detail, the E-Series makes it easy to stream movies, TV shows and more from apps you love on your mobile device to the big screen.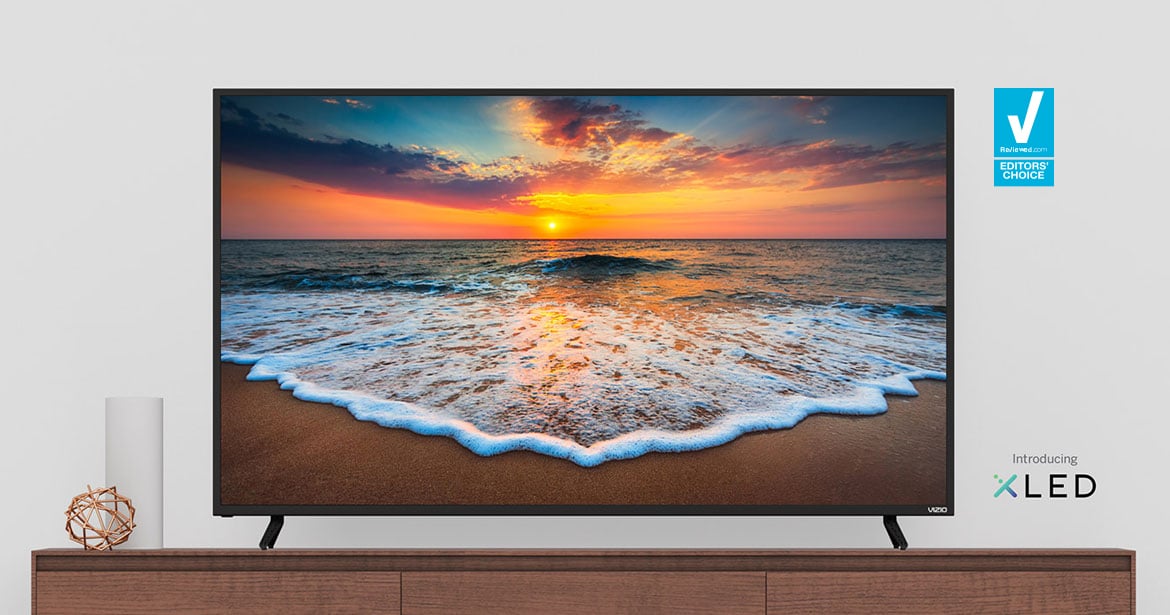 Striking Contrast.
Experience vibrant contrast with High Dynamic Range and crystal clarity with Ultra HD.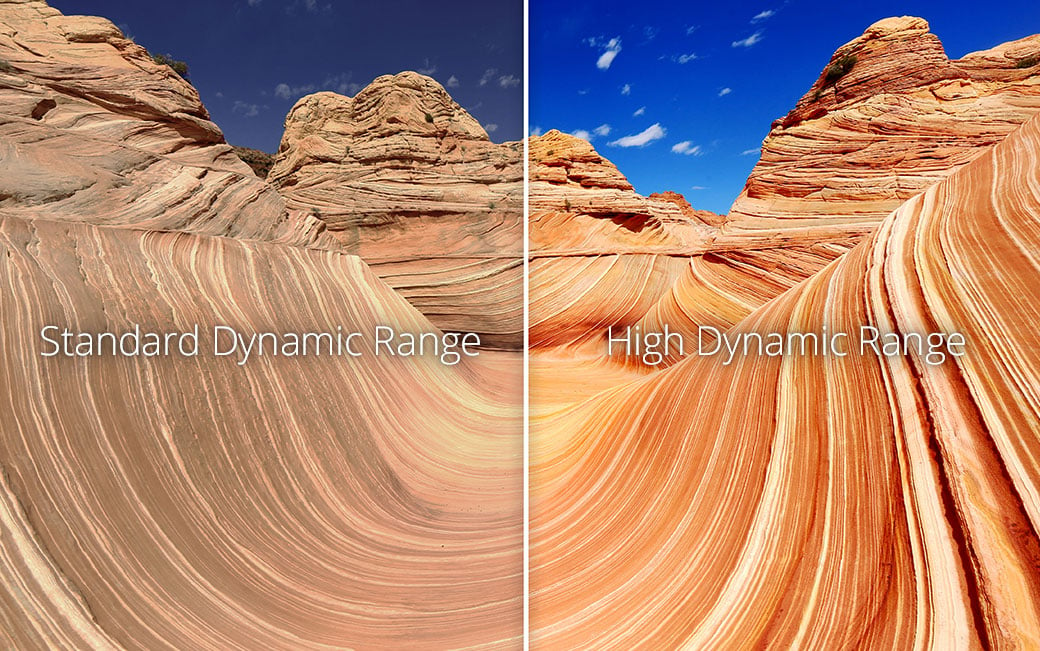 Exceptional Performance.
E-Series raises the bar with 10 Active LED Zones®. This advanced innovation dynamically adjusts your screen's backlight to adapt to the content on-screen to deliver incomparable contrast levels, sharper details and the deepest, purest black levels.

The All-New VIZIO SmartCast™
More Ways To
Discover.

More Ways To Control.
Everything you love about VIZIO SmartCast™ just got smarter. The new VIZIO SmartCast TV℠ launches apps directly from the big screen, and SmartCast Mobile™ allows you to browse and control your favorite content from your phone.
VIZIO SmartCast TV.℠
Starting to roll out now on 2017 E-Series3. SmartCast TVSM features apps like Netflix and Amazon Video directly on the big screen for simple access to your favorite TV shows, movies and music.
SmartCast
TV℠ Remote.

The new 2017 VIZIO SmartCast TV Remote makes it easy to browse and stream shows right from the big screen4.
SmartCast Mobile™.

Download VIZIO SmartCast Mobile™ to turn your phone into a powerful touchscreen remote with access to even more apps. Simply tap to stream content to the big screen.

Learn More About SmartCast Mobile™
Chromecast built-in.

Every VIZIO SmartCast Display has Chromecast built-in. Access thousands of Chromecast-enabled apps on your mobile device and stream right to your display.

Learn How To Cast
All the apps you know and love.
With chromecast built-in, experience endless entertainment. Discover a range of free, subscription of paid content from thousands of apps.

1,000 +
Chromecast-Enabled Apps
200,000 +
TV Shows & Movies
Learn How To Stream
Connect your device to the same Wifi network.
Tap the Cast button to send content to your VIZIO SmartCast™ device.
Use your voice to control your
display with Google Home.
VIZIO SmartCast™ works with the Google Assistant on devices like Google Home. Stream Netflix, YouTube and more with ease. Play, pause or turn up the volume all without lifting a finger.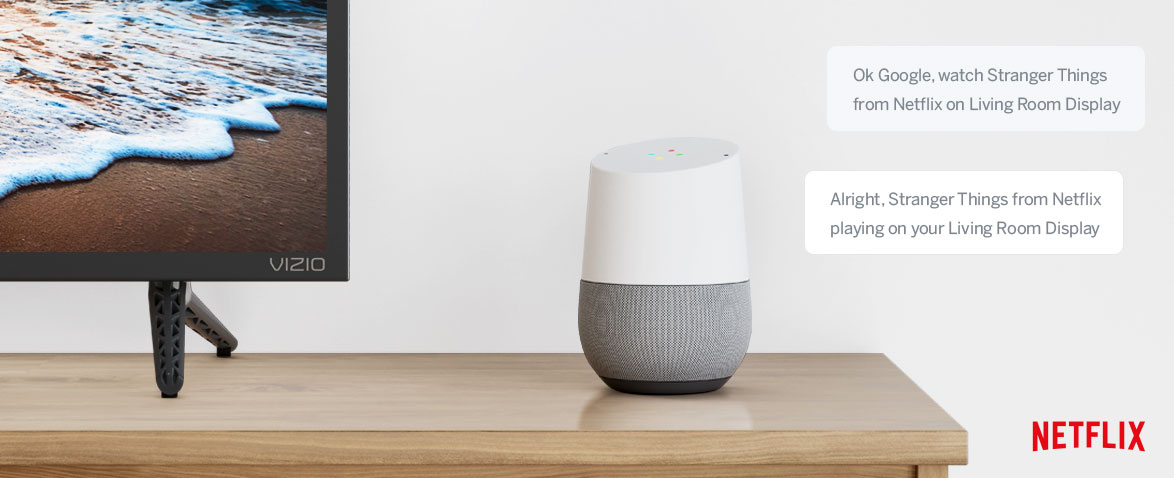 How Do You Watch?
Casting/Streaming.
If you stream entertainment from apps, you can easily cast your favorites to the screen from your phone or tablet.
Cable/Satellite.
If you subscribe to cable or satellite, simply connect an HDMI cable, sold separately, with your display to the receiver.
Over-The-Air Broadcast.
If you use external antennas to watch local broadcasts, a TV tuner is required and sold separately.
California Health & Safety Code Section 25249.6
---
---
1. High Dynamic Range picture quality is available only in 2017 E-Series sizes 55" and up.
2. Ultra HD picture quality, equating to nearly 8.3 million pixels, is available only in 2017 E Series sizes 50" and up.
3. VIZIO SmartCast TV is now rolling out to 2017 E-Series, M-Series and P-Series SmartCast Ultra HD displays. For more information, please visit https://www.VIZIO.com/SCTVupdate
4. Actual remote may vary.
Not all Chromecast™ enabled apps are integrated with VIZIO SmartCast™ and may require additional steps to cast.
VIZIO SmartCast Mobile™ is required for setup and to access advanced menu functions.
Select features of VIZIO SmartCast Mobile™ require a myVIZIO Account (available free).
All screen images simulated.
HDR feature may not be compatible with all formats. Content is subject to availability.
Home © 2015 DreamWorks Animation LLC. All Rights Reserved.All Rights Reserved. Screen image simulated.

The third-party applications referenced here may only be available in certain countries and languages, may require additional fees or subscription charges, and may be subject to future updates, modifications, interruption and/or discontinuation of service without notice. App services featured on the included IR remote may not be available in all regions. VIZIO assumes no responsibility for such applications and content. 4K or HDR availability varies by app and may be subject to subscription fees, internet service, and device capabilities. Additional third party terms, conditions and restrictions apply. Hulu is only available in the United States. Content may not be available in 4K resolution. 4K HDR availability subject to your Netflix subscription plan, Internet service, device capabilities, and content availability. https://www.netflix.com/TermsOfUse
VIZIO, Inc. has made every effort to ensure the accuracy of the information provided herein. All product specifications, functionality, features, configurations, performance, design and other product information described herein are subject to change without notice. VIZIO, Inc. disclaims liability for typographical, technical, or descriptive errors.

©2017 VIZIO, Inc. VIZIO, the V Logo, VIZIO SmartCast, Home Theater Display, Active LED Zones and other terms and phrases are trademarks or registered trademarks of VIZIO, Inc. All other trademarks and logos are property of their respective owners. All rights reserved.

Amazon, Alexa, Amazon Echo and all related logos and motion marks are trademarks of Amazon.com, Inc. or its affiliates.
Key Specs
Class Size60"
Screen Size (Diag.)60"
Panel TypeVA
Smart PlatformVIZIO SmartCast™ w/ Google Cast™ Built-in
ResolutionUltra HD - 3840x2160
UHD Upscale EngineSpatial Scaling Engine™
Picture ProcessorVM50 Engine
Display ProcessorV8 Octa-Core Processor
Backlight TypeFull-Array LED
Local Dimming ZonesYes, Active LED Zones® x10
Clear Action™180
Built-in Wi-FiYes
UHD Codec SupportHEVC (H.265), VP9
Bluetooth4.1 LE
HDMI Inputs
HDMI4 (1 side, 3 down)
HDMI VersionPort 1 supports: v2.0; Port 2-4 supports: v1.4
HDCP VersionPorts 1 supports: v2.2; Port 2-4 supports: v1.4
Additional Inputs
Component1 (side)
Ethernet1 (down)
USB Ports1 (side)
TV TunerNo, Note: If you use an external antenna to watch local over-the-air broadcast TV signals, a TV tuner is required and sold separately.
Outputs
ARCYes
Analog Audio Out1 (down)
Digital Audio Out (SPDIF)1 (down)
Display
Effective Refresh Rate120Hz
Active Pixel Tuning™Yes
Dynamic Contrast Ratio5M: 1
Aspect Ratio16:9
Viewable Angle (H/V)176°/176°
OSD LanguageEnglish, Spanish, French
Audio
Speakers/Power Output10W x 2
DTS StudioSound™Yes
Energy Savings
Energy ComplianceN/A
Power Consumption130W
Standby Power Consumption<0.5W
Ambient Light SensorYes
Wall Mount Specifications
VESA ComplianceYes
Mount Pattern400mm x400mm
Screw SizeM6
Hole Depth14mm
Stand Assembly
Screw SizeM5
Screw Length14mm
Included Accessories
Remote ControlXRT132
Battery TypeAAA x2
Size and Weight
Product with Stand Dimensions53.50"W x 33.50"H x 10.60"D
Product with Stand Weight44.53 lbs
Product without Stand Dimensions53.50"W x 31.0"H x 2.70"D
Product without Stand Weight43.65 lbs
Product Packaging Dimensions57.28"W x 35.55"H x 7.24"D
Product Packaging Weight60.85 lbs
VIZIO Warranty
WarrantyOne Year Parts & Labor. Free Lifetime Technical Support.
California Health & Safety
Warning:This product contains a chemical known to the State of California to cause cancer, birth defects or other reproductive harm. California Health & Safety Code Section 25249.6