VIZIO Sound Bar.
Award-Winning Home Theater.

The All-New 5.1 Audio Experience.
Step up to immersive surround sound with VIZIOs new 5.1 home theater sound bar. Winner of CNET's Best of CES 2013, the VIZIO S4251w-B4 combines amazing performance with innovative features to deliver an audio experience as crystal-clear as your HDTV picture in a design that's remarkably easy to use.


Next Level Audio Experience.
Full Surround Sound Immersion.
The VIZIO 5.1 home theater comes with a three channel sound bar, wireless subwoofer for thunderous bass, and rear satellite speakers that put you in the center of the action. TV, movies, sports and games will come to life in up to 102 dB of roof-raising volume with less than 1% of total harmonic distortion1.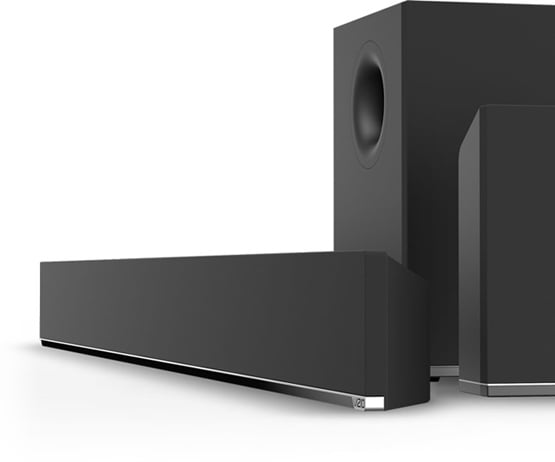 Dolby Digital®
The audio standard for cinema, broadcast, DVD, Blu-ray, and streaming content, Dolby Digital® surround sound provides dramatic spatial dimension to soundtracks and enhanced audio definition for an engaging listening experience.

DTS Digital Surround™
DTS Digital Surround™ decoding delivers up to 5.1 discrete channels of surround sound at twice the audio resolution of other standard definition DVD video formats.

DTS Circle Surround™
DTS Circle Surround™ is an advanced, highly versatile, patented multichannel matrix decoder capable of supporting a wide range of surround sound creation and playback applications.

DTS TruVolume™
DTS TruVolume™ is a revolutionary solution that provides a consistent and comfortable volume level for a more enjoyable multimedia experience. Simply set the volume once.
Convenient Connection.
Just Set It Up, Plug It In and Turn It On.
Connecting a single audio cable is all it takes to fill any room with rich immersive sound within minutes. Every VIZIO sound bar comes equipped with any connection you might need to get your audio booming quickly, with maximum convenience and minimal clutter.

— For DTS patents, see http://patents.dts.com. Manufactured under license from DTS Licensing Limited. DTS, the Symbol, & DTS and the Symbol together are registered trademarks of DTS, Inc., DTS Digital Surround, DTS Circle Surround, DTS TruVolume, DTS TruSurround and DTS 3.0 are registered trademark of DTS, Inc. © DTS, Inc. All Rights Reserved.
— Dolby and the Dolby-D Symbol are registered trademarks of Dolby Laboratories.
— Bluetooth is a registered trademark of Bluetooth SIG, Inc.
1. S4251w-B4 is rated at 102 dB. Sound Pressure Level measured using pink noise at 1 meter, C-weighted. Total Harmonic Distortion calculated as electrical measurement of amplifier distortion.
2. Dolby Digital and DTS Digital Surround are available on select VIZIO sound bars only where specified and are not a standard feature.
Tech Specs
Sound Bar Size42"
Sound Bar SpeakersLeft & Right Channels (each) – 2 x 3" mid-range drivers, 1 x ¾" tweeters
Sound Pressure Level102 dB
Sound Bar Frequency90 Hz - 20 kHz
Subwoofer Frequency40 Hz - 90 Hz
Audio Decoding TechnologyDolby Digital®, DTS Digital Surround
Sound Enhancement TechnologyDTS Circle Surround™, DTS TruVolume™
Wireless Range (Subwoofer)60' Line of sight
BluetoothYes
Sound Bar ButtonsPower, Input, Bluetooth, Volume Up, Volume Down
RemoteYes – Display Remote
Power Input120V 60 Hz
InstallationTable top and wall-mountable
Package ContentsSound Bar, Wireless Subwoofer, 2x Rear Satellite Speakers, RCA Cables for Satellite Speakers, Display Remote, RCA to 3.5mm Audio Cable, Digital Coaxial Cable, Optical Digital Cable, Wall mounts, Quick Start Guide, Sound Bar Power Cable, Wireless Subwoofer
Connections
Analog Audio Input1 x Stereo RCA
Analog Audio Input1 x 3.5mm stereo mini jack
Digital Audio Input1 x RCA (Coaxial)
Digital Audio Input1 x Optical (Toslink)
USB Input1 x USB (for .WAV audio Playback)
Dimensions and Weight
Sound Bar Dimensions42.32"W x 3.74"H x 3.15"D
Product with Stand Weight8.9 lbs.
Satellite Dimensions3.18"W x 7.42"H x 2.77"D
Subwoofer Dimensions6.93"W x 12.52"H x 15.86"D
Subwoofer Weight14.7 lbs.
Product Packaging Dimensions44.5"W x 10"H x 18.6"D
Product Packaging Weight33 lbs.
VIZIO Warranty
WarrantyOne Year Parts & Labor. Free Lifetime Technical Support.
Related Support Videos

S4251 Unboxing
Watch