The All-New VIZIO SmartCast™ P-Series™
Designed to Redefine.
Introducing the all-new VIZIO SmartCast™ P-Series™ Ultra HD HDR Home Theater Display™, the first 4K ultra HD display to feature
High Dynamic Range with Dolby Vision, Ultra Color Spectrum, Chromecast built-in, with a powerful 6" Android™Tablet Remote included.
What you love won't change, but how you experience it will never be the same again.
More Depth and Contrast than Ever.*
Discover a world of new depth and contrast with the enriched brightness and vibrance of VIZIO HDR1.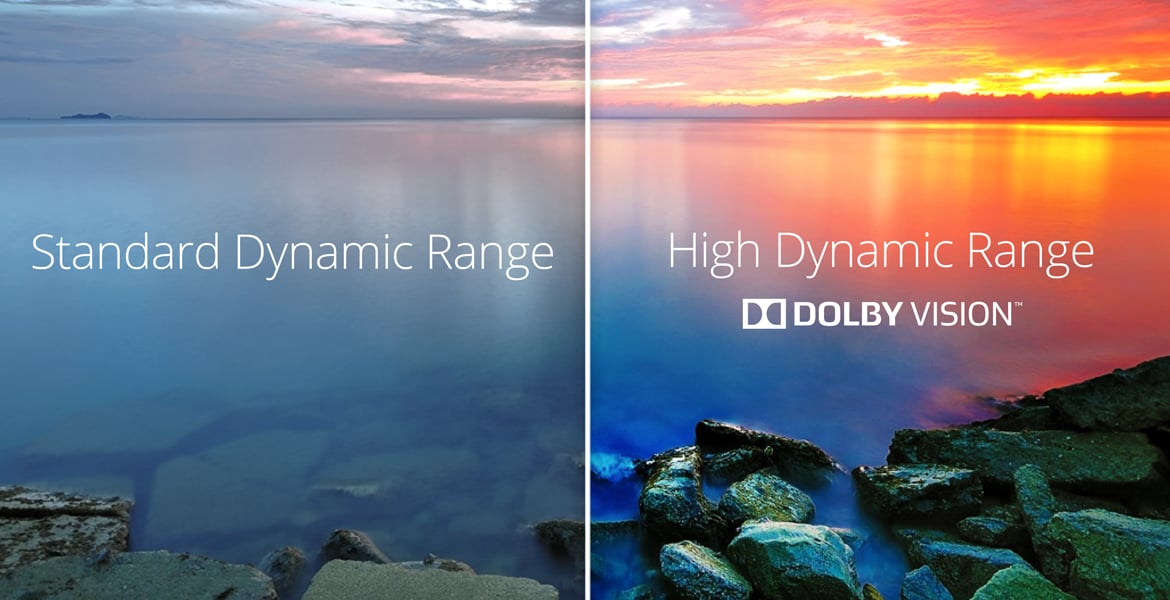 Experience HDR and Dolby Vision™
Don't miss your favorite movie titles in UHD now for purchase or rent on VUDU. Click here for a full list.

Ultra Color Spectrum™
For comparison purposes only. Not an actual representation of the colors available.
Experience a wider range of color and shading never before possible in a home screen. The VIZIO P-Series reveals fine details
with radiant splendor — expressing every hue, harmony and tone with impeccable accuracy for a
nuanced picture that stays true to the creator's vision.
The Next Generation of
Local Dimming.
P-Series raises the bar with 128 Active LED Zones®. This advanced innovation dynamically adjusts your screen's backlight to adapt to the content on-screen to deliver incomparable contrast levels, sharper details and the deepest, purest black levels.

Simulated images used, shown for illustrative purposes only. Actual results and number of LED lights, zones, and size vary by model.
Experience VIZIO SmartCast™
A Whole New Way to Watch.
VIZIO SmartCast™ brings together your favorite entertainment into one simple experience. Discover, cast and control TV shows,
movies, music and more on your P-Series Display from your VIZIO SmartCast™ Tablet Remote.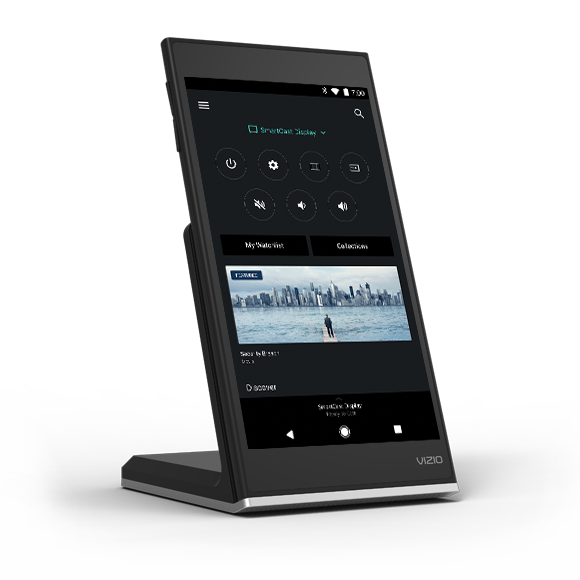 Screen Images Simulated.
Powerful Android™
Tablet Remote
Browse and play content with simple tap, swipe and voice-based controls using the VIZIO SmartCast app that's pre-installed on the 6" Android tablet remote included in every VIZIO SmartCast
P-Series 4K HDR Home Theater Display.
| | |
| --- | --- |
| 16Gb | 1080p |
| storage | full HD |
V8
Wireless
octa-core
processor
charging
dock
Download the VIZIO SmartCast App to turn your own smartphone or tablet into a powerful remote.
VIZIO
SmartCast™ App
No more sitting through endlessly scrolling guides or jumping between apps to find what you want. With the SmartCast app, you can see what's playing from multiple apps all at once. Then just tap to cast it to the big screen.
*Live TV listings compatible with IP-based set-up boxes from DirectTV® and Dish® services, with more services to be added.
See vizio.com/smartcast for details.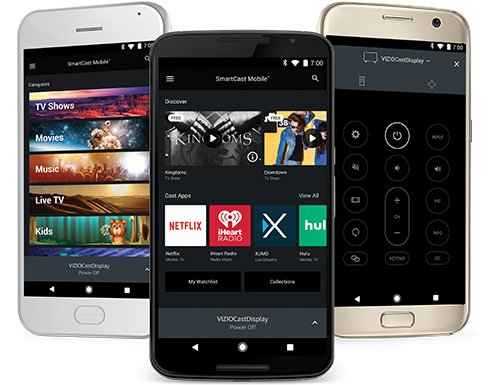 Cast From 1000+ Apps You Already Know and Love.
All VIZIO SmartCast™ products have Chromecast built-in. Easily cast your favorite entertainment from your phone to your P-Series using thousands of popular apps, such as Netflix, HBO NOW, Pandora, YouTube or Spotify.
1000+
Chromecast Enabled Apps
200,000+
TV Shows & Movies
3,000,000
Songs
Your Favorite Apps
are Chromecast-Enabled

WARNING: This product contains a chemical known to the State of California to cause cancer, birth defects or other reproductive harm.
California Health & Safety Code Section 25249.6
Simple Setup
Included HDMI Cable.
VIZIO SmartCast™ P-Series Displays include an HDMI cable in the box, along with five HDMI ports to connect Cable/Satellite boxes, Bluray/DVD players, Gaming Consoles and Computers.
Tuner-Free Display.
The VIZIO SmartCast™ P-Series 4K Ultra HD Home Theater Display is now tuner-free. Most households commonly stream or watch live TV from cable and satellite boxes – neither of which requires a tuner, so you shouldn't notice any differences in setup.
Now if you use an external antenna to watch free local channels, you will need to get a separate tuner adapter to connect your antenna to your display.
Learn More About Tuner-Free Displays→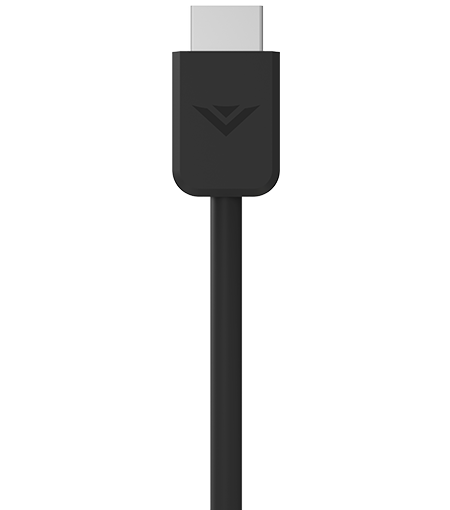 Complete your P-Series Experience.
With many VIZIO sound bar configurations, you can enhance audio, add bass, or provide full surround sound to complete your home theater experience.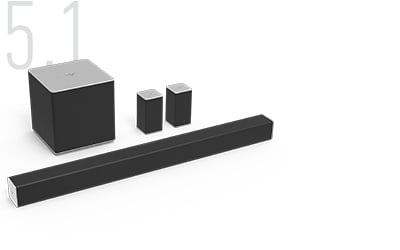 5.1 Sound Bar System
The pinnacle of surround sound immersion and convenience, this system turns any room into a true home theater.
Shop Now →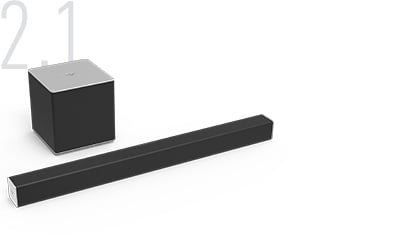 2.1 Sound Bar System
Crystal-clear sound with the extra bass kick of a subwoofer to fill any room with more immersive audio.
Shop Now →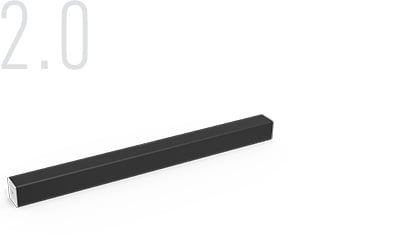 2.0 Sound Bar
Optimized sound for small to medium sized TVs and spaces where a simple audio upgrade is all that's needed.
Shop Now →

*compared to previous generations.

1 HDR feature may not be compatible with all formats. Content is subject to availability.

VIZIO, Inc. has made every effort to ensure the accuracy of the information provided herein. All product specifications, functionality, features, configurations, performance, design and other product information described herein are subject to change without notice. VIZIO, Inc. disclaims liability for typographical, technical, or descriptive errors.
©2017 VIZIO, Inc. VIZIO, the V Logo, VIZIO SmartCast, Home Theater Display, Active LED Zones and other terms and phrases are trademarks or registered trademarks of VIZIO, Inc. All other trademarks and logos are property of their respective owners. All rights reserved.
Amazon, Alexa, Amazon Echo and all related logos and motion marks are trademarks of Amazon.com, Inc. or its affiliates.
How to Train Your Dragon - Edge of Tomorrow © 2016 DreamWorks Animation LLC. All Rights Reserved. Screen image simulated.
Home © 2015 DreamWorks Animation LLC. All Rights Reserved.
Key Specs
Class Size75"
Screen Size (Diag.)74.54"
Panel TypeVA
Smart PlatformVIZIO SmartCast™ w/ Google Cast™ Built-in
High Dynamic RangeYes, with Dolby Vision support
Wide Color GamutYes, Ultra Color Spectrum™
ResolutionUltra HD - 3840x2160
UHD Upscale EngineSpatial Scaling Engine™
Picture ProcessorVM50 Engine
Display ProcessorV8 Octa-Core Processor
Backlight TypeFull-Array LED
Local Dimming ZonesYes, with Active LED Zones® x128
Clear Action™960
Built-in Wi-FiYes, 802.11ac Dual Band
UHD Codec SupportHEVC (H.265), VP9
Bluetooth4.1 LE
HDMI Inputs
HDMI Ports5 (2 side; 3 down)
HDMI VersionPorts 1-4 support v2.0 (upgrade 2.0a coming soon); Port 5 supports v1.4
HDCP VersionPorts 1- 4 supports: v2.2; Port 5 supports: v2.0
HDMI 1-4 Tech Specs600MHz pixel clock rate: 2160p@60fps, 4:4:4, 8-bit | 2160p@60fps, 4:2:2, 12-bit
2160p@60fps, 4:2:0, 12-bit
HDMI 5 Tech Specs370MHz pixel clock rate: 2160p@60fps, 4:2:2, 8-bit | 2160p@60fps, 4:2:0, 10-bit
1080p@120fps, 4:4:4, 10-bit | 1080p@120fps, 4:2:2, 12-bit
Additional Inputs
Component1 (side)
Ethernet1 (down)
USB Ports2 (side)
TV TunerNo, if you use an external antenna to watch local over-the-air broadcast TV signals, a TV tuner is required and sold separately.
Outputs
ARCYes
Analog Audio Out1 (down)
Digital Audio Out (SPDIF)1 (down)
Display
Effective Refresh Rate240Hz
Active Pixel Tuning™Yes
Dynamic Contrast Ratio50M:1
Aspect Ratio16:9
Viewable Angle (H/V)178°/178°
OSD LanguageEnglish, Spanish, French
Audio
Speakers/Power Output15W x 2
DTS StudioSound™Yes
DTS TruVolume™Yes
Energy Savings
Energy ComplianceN/A
Power Consumption178W
Standby Power Consumption<0.5W
Ambient Light SensorYes
Wall Mount Specifications
VESA ComplianceYes
Mount Pattern400mm x 400mm
Screw SizeM8
Hole Depth12mm
Stand Assembly
Screw SizeM4
Screw Length24mm
Included Accessories
Tablet Control6" Android Tablet Remote – XR6P10
Remote ChargerXD6P10 – Android Tablet Remote Wireless Charger
Remote ControlXRT132
Battery TypeAAA x2
Size and Weight
Product with Stand Dimensions66.21"W x 40.57"H x 13.74"D
Product with Stand Weight103.62 lbs.
Product without Stand Dimensions66.21"W x 37.97"H x 2.53"D
Product without Stand Weight102.29 lbs.
Product Packaging Dimensions76.97"W x 44.41"H x 9.92"D
Product Packaging Weight136.91lbs.
Distance Between Stands (inner)53.99"
Distance Between Stands (outer)57.45"
VIZIO Warranty
WarrantyOne Year Parts & Labor. Free Lifetime Technical Support.
California Health & Safety
Warning:This product contains a chemical known to the State of California to cause cancer, birth defects or other reproductive harm. California Health & Safety Code Section 25249.6