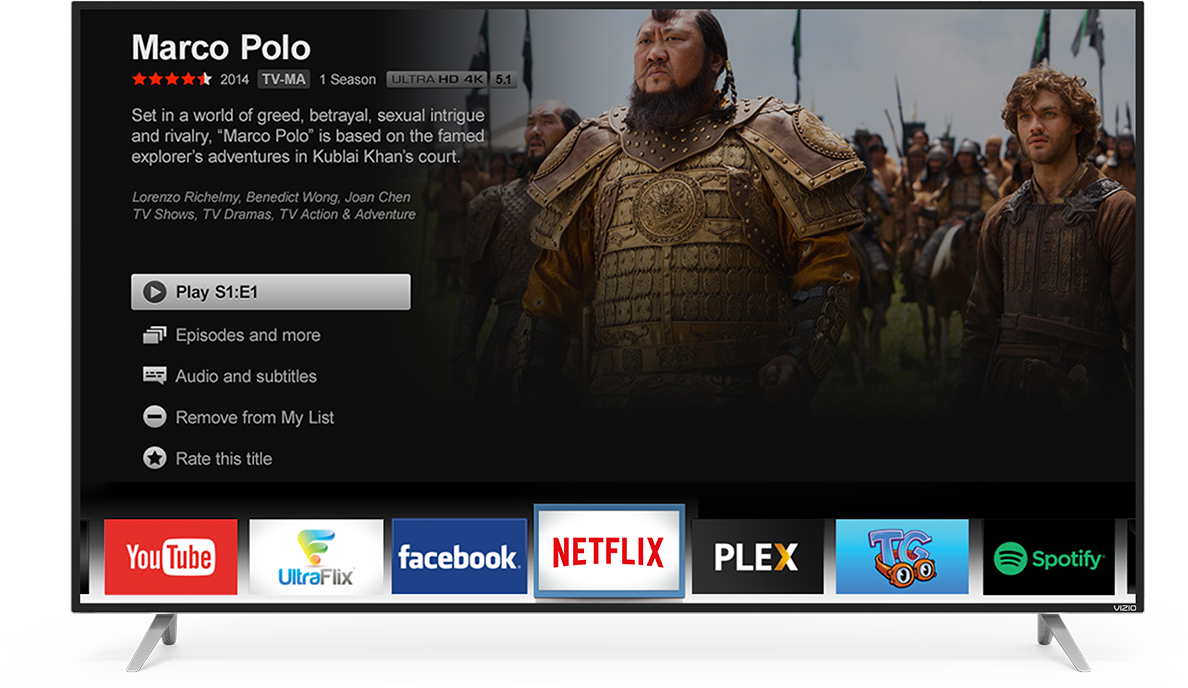 Watch Marco Polo now on Netflix.
V.I.A. Plus Apps®.
VIZIO Internet Apps Plus® (V.I.A. Plus) is built into select VIZIO Smart TVs. Stream your favorite TV Shows, Movies, Music and more from popular apps including Netflix, Youtube and more.1
Shop V.I.A. Plus TVs
Featured
UHD
New
TV, Movies & Videos
Music
News & Sports
Social
More
Netflix

Watch your favorite movies, TV, documentaries, comedies and Netflix original series anytime.

Amazon Instant Video™

New movie releases, must-watch TV shows and classic favorites all available right now.

iHeart Radio®

Listen to live radio stations, create your own stations or tune in to others for free.

Vudu®

Stream or download the latest movies & TV shows, and watch same-day DVD releases.

Hulu™

Watch current hit shows, classic series and acclaimed movies instantly with Hulu.

Spotify®

Music for every moment. Connect with Spotify for access to millions of songs.

Pandora®

Free, personalized radio anytime, anywhere. Discover new music and enjoy old favorites.

Ultraflix®

The world's largest streaming library of pristine 4K Ultra HD content.

Facebook®

Facebook keeps you connected to friends, family and more.

Crackle

Watch hundreds of movies and TV shows online – uncut, unedited and unbelievably free.

Plex

All of your personal media organized so you can enjoy it no matter where you are.

Toon Goggles

Online video portal for children with thousands of 100% parent-friendly and kid-safe cartoons.

Aircast

Stream movies with Chromecast on TV and stream from PC, Mac or even Android phones.

Lyve

Lyve brings together the moments and memories scattered across all of your devices.

YuppTV

Watch the most popular Live Indian TV content and events as they happen only on YuppTV.

YouTube®

Discover new channels, watch, upload and share your favorite videos.

Baeble

Watch live indie music concerts and music videos live at the hottest clubs around the country.

TUNEIN

Listen to online radio, find streaming music radio and streaming talk radio with TuneIn

Yahoo News

The latest headlines, breaking news stories and in-depth coverage with videos and photos.

Yahoo Sports

All the latest breaking sports news, scores, rumors, fantasy games, and more.

Yahoo Sports Fantasy Football

Create or join leagues, manage teams and get free scores, stats, news and expert advice.

Yahoo Weather

Forecasts, breaking reports, storm advisories, resources, categories and local weather.

Yahoo Finance

Free stock quotes, news, portfolio management resources, international market data and more.

Yahoo Screen

Watch free online videos featuring sports, kids content, funny videos and the latest news clips.

Wall-Street Journal

Breaking news and current headlines from the US and around the world.

Accuweather

Get local and international weather forecasts, current conditions and breaking reports.

YouTube®

Discover new channels, watch, upload and share your favorite videos.

Flickr

Accessing, organizing, storing and sharing all your pictures and photo albums made easy.

Fandango

Find theater showtimes, watch trailers, read reviews and buy movie tickets in advance.

eBay

Buy and sell electronics, cars, apparel, collectibles, sporting goods and everything else.

iFood.tv

A trustworthy collection of tried, tested and reviewed video recipes and cooking shows.

USA Today Sports

Up-to-date coverage of US and International news, Weather, Entertainment, Finance and more.