54 " 5.1 Sound Bar System.
Built for Big Sound.

Designed for Big Screens.

True surround sound. Wide sound stage. Bluetooth® connectivity.
On

Premium
Home Theater
True Home Theater Experience for Big TVs.
The height of entertainment immersion. The VIZIO 54" 5.1 Sound Bar System delivers a true, uncompromised 5.1 audio experience rather than a simulated surround sound solution. With an expansive Sound Bar, an easy to set up, booming wireless subwoofer and two rear satellite speakers, you'll experience the ultimate surround sound in your living room, great room or home theater.

54" 5.1 Sound Bar System
close
54" 5.1 Sound Bar System
Sleek Sophistication


Inside and Out
Streamlined Industrial Design
VIZIO sound bars awe with more than just stunning sound quality. Their elegant exterior design adds a stylishly modern look when mounted to your wall or set on any surface, yet their slim profile and small footprint allow them to be discreetly placed anywhere.
Deep Bass Technology
Select VIZIO sound bars feature an integrated Deep Bass Module, which provides incredible low frequency responses for deep, room-shaking bass without the need for an external subwoofer.

54" 3.0 Sound Bar
Big Audio for Your Big Screen
A longer sound bar allows a wider separation between the left and right channels for a superior stereo experience. This added length also projects sound across a larger area, creating a wider sound stage that's ideal for big screen home theater. The VIZIO 54" sound bars also features a third (center) audio channel for enhanced dialog clarity.
close
38" 5.1 Sound Bar System
Audio Built to

Boom
Home Theater Made for the Big Stage
VIZIO sound bars fill your room across a wider listening angle with up to 104 dB of crystal-clear audio at less than 1% harmonic distortion.2 Select models come with wireless subwoofers that deliver thunderous bass without clutter, or Deep Bass technology for low-frequency response where a subwoofer isn't feasible. For the peak in home theater, 5.1 features rear satellite speakers to envelop any room in a truly immersive surround sound experience.
*Speaker stand sold separately.

38" 5.1 Sound Bar System
Convenient

Connection
Just Set It Up, Plug It In and Turn It On
Connecting a single audio cable is all it takes to fill any room with rich immersive sound within minutes. Every VIZIO sound bar comes equipped with any connection you might need to get your audio booming quickly, with maximum convenience and minimal clutter.
Wireless Subwoofer
2.1 and 5.1 sound bars with a wireless subwoofer make setting up a simple
plug-and-play process that delivers deeper bass without tangled wires.
Bluetooth®
Many VIZIO sound bars feature built-in Bluetooth for wireless music streaming with compatible devices.
aptX on our 54" models enhances Bluetooth for audio streaming with
near-lossless sound quality.1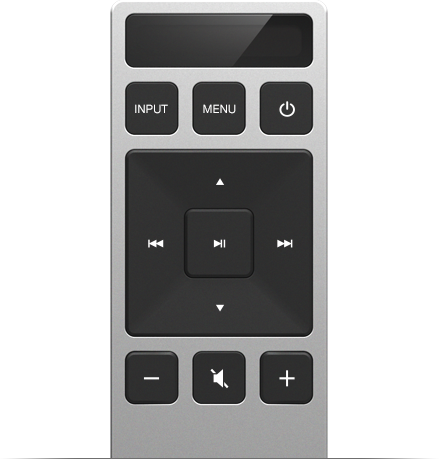 Display Remote
Using your sound bar is simple with a beautifully redesigned remote on newer models that puts an intuitive user interface right in your hand.
Selecting Your
Sound Bar
Making the right sound bar choice is easy with answers to a few simple questions.
1

What size is
your TV?

Sound bars look and perform their best when matched to the size of your TV. VIZIO's sound bars vary from 32" to 54" to easily accommodate most medium to large-sized TVs.

2

Where are you
using it?

While 2.0 audio fills most rooms, 2.1 adds a subwoofer for extra bass. Premium 3.0 provides enhanced dialog clarity, and 5.1 surround delivers unparalleled home theater immersion.

3

What is your
input connection?

VIZIO sound bars come with any connection you'll need, from RCA analog to digital to two-way HDMI and Bluetooth, making home theater set-up an easy, one-step process.
The VIZIO

Sound Bar Family

Home theater systems to deliver the right sound for any room.
Available

Now






—

For DTS patents, see http://patents.dts.com. Manufactured under license from DTS Licensing Limited. DTS, the Symbol, & DTS and the Symbol together are registered trademarks of DTS, Inc., DTS Digital Surround, DTS Circle Surround, DTS TruVolume, DTS TruSurround and DTS 3.0 are registered trademark of DTS, Inc. © DTS, Inc. All Rights Reserved.

—

Dolby and the Dolby-D Symbol are registered trademarks of Dolby Laboratories.

—

Bluetooth is a registered trademark of Bluetooth SIG, Inc.
1.

Source Bluetooth playback device must be enabled with aptX® technology. See your Bluetooth device's specifications for details.

2.

S5451w-C2 is rated at 104dB. Sound Pressure Level measured using pink noise at 1 meter, C-weighted. Total Harmonic Distortion calculated as electrical measurement of amplifier distortion.

3.

Dolby Digital, DTS Digital Surround, DTS TruVolume, DTS TruSurround, DTS Circle Surround and DTS 3.0 are available on select VIZIO sound bars only where specified and are not a standard feature.