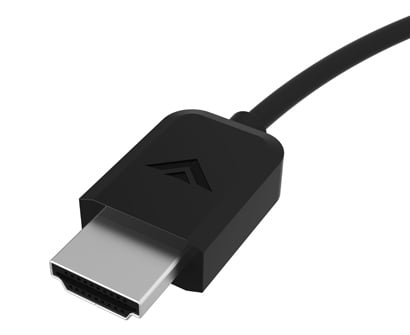 This all-in-one 12ft HDMI® cable can be used for high definition video and audio. The 1080p and 4k x 2k Ultra High Definition capabilities are ideal for bringing sports, movies and games to life in vivid detail on your HDTV. It also supports 7.1 surround sound and audio return channel, enabling your TV to send and receive audio signals without additional cables.
Maximum Performance
Highest available resolution
up to Ultra HD 4K
High Speed HDMI
up to 18 Gbps
Latest HDMI Technology
Ultra HD 4K
3D Ready
Deep Color
X.V. Color™
Multi-Channel Audio
Audio Return Channel
Lip Sync Technology
CEC Ready
24K Gold Plated
Tech Specs
CompatibilityHDTVs (LED, LCD, OLED, Plasma, DLP), Blu-ray™ Players, DVD Players, Stream Players, HD Video Game Consoles, HD Cable, Fiber and Satellite Boxes
Audio Signal SupportedLPCM, Dolby Digital, DTS, DVD-Audio, Super Audio CD, Dolby Digital Plus, Dolby TrueHD™, DTS-HD High Resolution Audio, DTS-HD Master Audio™, MPCM
Video Signal Supported480i, 480p, 576i, 576p, 720p, 1080i, 1080p, 1440p, 1600p, 2160p
Size and Dimensions
Packaging Dimensions Width4.57"
Packaging Dimensions Height9.53"
Packaging Dimensions Depth1.34"
Packaging Dimensions Weight.23 lbs
Product Dimensions Width1.08"
Product Dimensions Height0.76"
Product Dimensions Depth0.40"
VIZIO Warranty
WarrantyOne Year Parts & Labor. Free Lifetime Technical Support.